Table of Contents
Welcome to Yoga Wheels 101, where we unravel the secrets of these captivating fitness tools. If you've ever wondered about the magical circular wonders known as yoga wheels, you're in for a treat.
In this ultimate guide, we'll explore their purpose, design, and the materials that make them yogi's best friends.
But there's more to this story. We'll delve into the art of choosing the perfect size yoga wheel for your unique needs, considering factors like body size, flexibility, and desired poses.
From there, we'll unveil the mysteries of using yoga wheels correctly, from proper alignment to a wide range of exercises that target your core, back, and more.
And speaking of backs, we'll address the burning question: Are Yoga Wheels the Ultimate Back Pain Solution?
Discover the amazing benefits they offer, such as gentle spinal traction, muscle relief, and improved flexibility. We'll even share specific exercises that can alleviate discomfort and promote a healthy spine.
So, if you're ready to roll into a world of strength, flexibility, and rejuvenation, fasten your seatbelts and join us on this exciting journey through the fascinating realm of yoga wheels.
Let's unlock the secrets together!
What is a Yoga Wheel?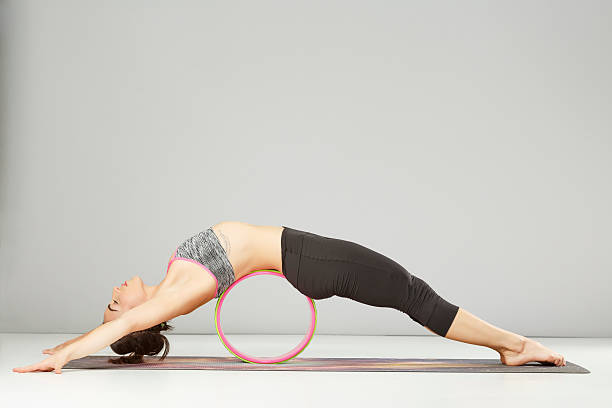 Rolling into the World of Yoga Wheels  
Have you ever wondered what that circular, wheel-like contraption you see in yoga studios is all about? Well, allow me to unravel the mystery for you.
It's called a yoga wheel, and it's a versatile prop designed to enhance your yoga practice in exciting ways. Think of it as your new best friend, ready to roll with you on your journey to fitness and flexibility!
The purpose of a yoga wheel is to provide support, stability, and deepening of stretches and poses. It acts as an extension of your body, assisting you in various yoga movements while challenging your balance and strength.
With its unique shape and construction, the yoga wheel opens up a whole new realm of possibilities for your practice.
Materials that Shape the Wheel
Yoga wheels are typically made from sturdy materials that can withstand the demands of your practice. The most common materials used are high-density foam, wood, or a combination of both.
Foam wheels offer a soft and cushioned feel, providing comfort during stretches and backbends. On the other hand, wooden wheels provide a firmer surface, allowing for a more intense and stable experience.
To ensure durability and longevity, look for yoga wheels crafted from high-quality materials that are both sweat-resistant and easy to clean. After all, you want your trusty yoga companion to stand the test of time and sweat!
Wheels Galore: Variations and Sizes
Just like yoga poses, yoga wheels come in a variety of shapes and sizes, catering to different needs and preferences. The most common size options available are small, medium, and large, each with its own benefits and uses.
– Small Wheels: Perfect for Precise Poses  
If you're looking to fine-tune your practice and focus on specific areas, a small yoga wheel might be your ideal companion. These compact wheels offer enhanced precision, allowing you to target smaller muscle groups and work on intricate poses with ease. They are also great for yogis with petite frames or those who prefer a more concentrated stretch.
– Medium Wheels: A Versatile Choice  
The middle ground is where versatility shines. Medium-sized yoga wheels strike a balance between precision and stability, making them a popular choice among yogis of different levels. They provide ample support for a wide range of poses, including backbends, chest openers, and balance exercises. If you're unsure about which size to choose, the medium wheel is often a safe bet.
– Large Wheels: Embrace the Spaciousness  
If you're seeking a deeper stretch and a sense of openness, a large yoga wheel might be your go-to prop. These wheels offer a broader surface area, providing more support for your back, shoulders, and hips during expansive poses. Yogis with a larger build or those looking to explore advanced backbends can benefit from the spaciousness of a large wheel.
Remember, the size of the yoga wheel ultimately depends on your personal preferences, body size, and the specific yoga poses you wish to incorporate into your practice. It's all about finding the perfect match for your unique journey on the mat.
What Size Yoga Wheel Do I Need?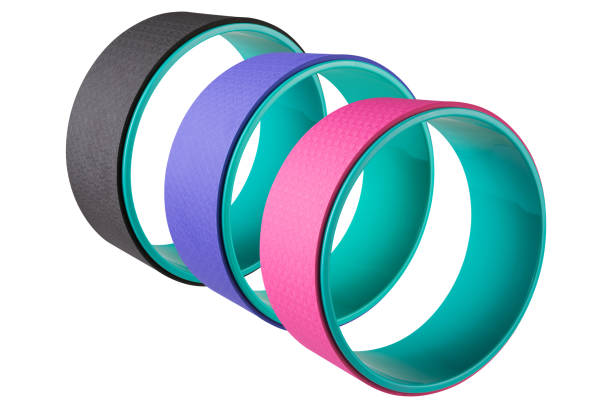 The Perfect Fit: Size Matters
Just like finding the right pair of shoes, choosing the appropriate size of a yoga wheel is essential for a comfortable and effective practice.
So, let's dive into the factors to consider when selecting the size that suits you best.
– Body Size and Flexibility Level: Embrace Your Uniqueness
Your body size and flexibility level play a significant role in determining the ideal yoga wheel size for you. If you're on the petite side or have limited flexibility, a smaller wheel may be your perfect match.
It offers a more targeted approach, allowing you to focus on specific areas and gradually work your way toward deeper stretches and poses.
On the other hand, if you have a larger build or enjoy exploring more expansive movements, a larger wheel can provide the space and support you need. It allows for a broader range of motion, accommodating your body comfortably during backbends and other full-body stretches.
Remember, there is no one-size-fits-all solution when it comes to yoga wheels. Embrace your uniqueness, honor your body, and choose a size that aligns with your individual needs.
– Intended Use and Specific Yoga Poses: Wheels for Every Purpose
Consider the intended use of your yoga wheel and the specific yoga poses you plan to incorporate into your practice. Are you looking to enhance your backbends, deepen your stretches, or focus on balance exercises? Each size of the yoga wheel can serve different purposes and support various poses.
A smaller wheel is ideal for targeted stretches and precision-based poses. It allows you to concentrate on specific muscle groups and achieve a more refined experience. If you're working on detailed backbends or intricate chest openers, a smaller wheel can provide the precision and control you desire.
A medium-sized wheel offers versatility, making it suitable for a wide range of poses and movements. It strikes a balance between stability and maneuverability, allowing you to explore different yoga sequences with ease. Whether you're a beginner or an experienced yogi, the medium-sized wheel can be your reliable companion.
For those seeking a grander experience, a larger wheel opens up a world of spaciousness and expansion. It provides ample support for deep backbends, spacious chest openers, and full-body stretches. If you have a larger build or wish to challenge yourself with advanced poses, a larger wheel can accommodate your journey to new heights.
Finding Your Wheel Soul Mate 
When it comes to choosing the right size, general guidelines can help point you in the right direction. Yoga wheels typically come in small, medium, and large options, each catering to different needs and preferences.
However, keep in mind that these guidelines are not set in stone, and personal experimentation is key.
To find your wheel soul mate, don't be afraid to test the waters—or in this case, the wheels. Explore different sizes, try them out during your practice, and pay attention to how your body responds. Listen to your intuition and let your body guide you toward the size that feels the most supportive, comfortable, and fun.
In the end, the perfect fit is about creating a harmonious connection between you and your yoga wheel. So, roll on, dear yogi, and let your journey to the perfect size wheel be an exciting exploration of self-discovery, flexibility, and joy!
How to Use Yoga Wheels: Rolling with Confidence and Creativity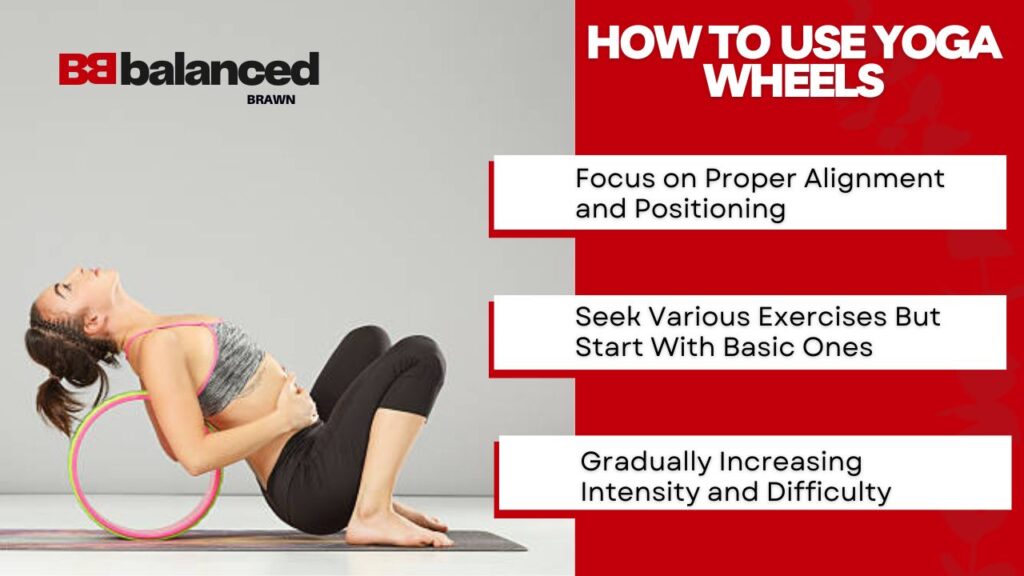 Proper Alignment and Positioning: The Wheel's Sweet Spot  
Using a yoga wheel is all about finding the sweet spot – that perfect alignment and positioning that allows you to reap the full benefits.
So, let's dive into the art of wheel placement and how to maintain stability and balance throughout your practice.
– Placing the Wheel Under Different Body Parts: Wheel-Wise Wisdom
The beauty of a yoga wheel lies in its versatility. Experiment with placing the wheel under various body parts to explore different stretches and sensations.
For a gentle chest and shoulder opener, lie on your back and position the wheel horizontally under your mid to upper back. Allow your spine to arch gently over the wheel, while your head and hips rest comfortably on the ground.
To target specific areas, such as your calves or hamstrings, sit with your legs extended and place the wheel vertically beneath one leg at a time. Slowly roll the wheel up and down, massaging and stretching the muscles. Remember to always maintain proper alignment and listen to your body's feedback.
– Maintaining Stability and Balance: Roll Like a Pro
When using a yoga wheel, stability and balance are key to safe and effective practice. Start by positioning your hands or feet on the wheel with a firm grip or contact points. This will create a strong foundation and help you maintain control as you move through different poses.
Engage your core muscles to stabilize your body and prevent wobbling or tipping. Imagine your body as a well-balanced, rolling sculpture, gliding smoothly on the wheel. With practice, you'll develop a greater sense of stability and find your balance both on and off the wheel.
Basic Exercises with a Yoga Wheel: Unleash Your Wheel-Power
Now that you've got the positioning and stability down, let's explore some basic exercises that will ignite your creativity and unleash your wheel-power.
These exercises will target your chest, shoulders, spine, and core, giving you a well-rounded workout.
– Chest and Shoulder Opening: Open Sesame!
To experience a blissful chest and shoulder opening, place the yoga wheel under your mid to upper back. With your feet planted firmly on the ground, gently roll back and forth, allowing the wheel to massage and stretch your chest and shoulder muscles. You can also extend your arms overhead, creating a deeper stretch and opening up your heart space.
– Spinal Stretches and Backbends: Bend it Like a Wheel-Yogi  
A yoga wheel is a fantastic tool for exploring various spinal stretches and backbends. For a gentle spinal stretch, sit on the ground with your legs extended and roll the wheel up and down your back, feeling the release and lengthening of your spine.
Ready to take it up a notch? Try a backbend by lying on your back with the wheel positioned under your mid to upper back. Push through your hands and feet, lifting your hips off the ground and arching over the wheel. Feel the exhilarating stretch as your spine extends and your heart reaches toward the sky.
– Core Strengthening Exercises: Roll and Engage
Engaging your core muscles while using a yoga wheel adds an extra dimension of challenge and benefits. Position the wheel under your feet or hands, and perform exercises like roll-outs or pike-ups. These movements require control and stability as you extend or fold your body while rolling the wheel in or out. Your core will thank you for the strengthening and toning it receives.
Gradually Increasing Intensity and Difficulty: From Beginner to Wheel-Master
Like any exercise routine, it's important to progress gradually and listen to your body's cues. Start with beginner-level poses and exercises, gradually increasing the intensity and difficulty as you build strength, flexibility, and confidence.
– Progressing from Beginner to Advanced Poses: Wheel of Progress
As you become more comfortable with the basic exercises, feel free to explore more challenging poses. Gradually progress from gentle stretches to deeper backbends, inversions, and balance poses. Remember, your journey is unique, so honor your body's limits and progress at your own pace.
– Listening to Your Body and Avoiding Overexertion: Trust the Wheel-Spokes
While the yoga wheel is a fantastic tool for enhancing your practice, it's essential to listen to your body and avoid overexertion. Pay attention to any discomfort, pain, or excessive strain. If something doesn't feel right, modify or back off from the pose. Your safety and well-being should always be a priority.
Trust the wisdom of your body and allow the yoga wheel to be a supportive ally on your fitness journey. With time, patience, and a sense of playfulness, you'll discover the immense potential of the wheel and unlock new levels of strength, flexibility, and joy!
Yoga Wheels for Back Pain: Roll Away the Aches and Pains  
Understanding the Benefits of Yoga Wheels for Back Pain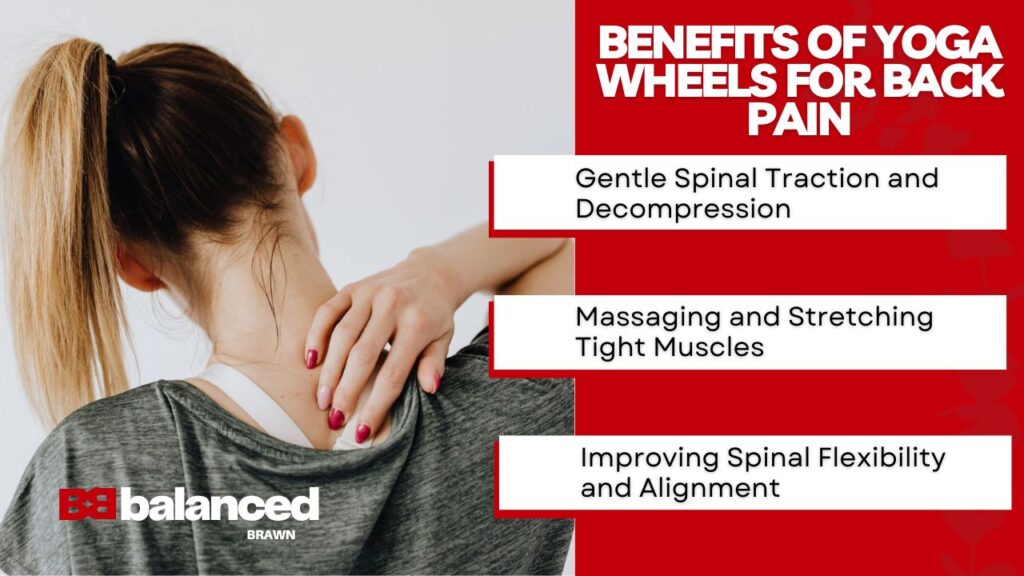 If you've been battling back pain, allow the yoga wheel to be your trusty ally in finding relief. This magical prop offers a range of benefits that can help alleviate discomfort and promote spinal health. Let's explore how yoga wheels can work wonders for your aching back.
– Gentle Spinal Traction and Decompression: Unwind the Tension
One of the primary benefits of using a yoga wheel for back pain is its ability to provide gentle spinal traction and decompression.
By lying on the wheel and allowing your spine to gently arch over it, you create space between the vertebrae, relieving pressure and tension that may have accumulated throughout the day. This soothing traction can offer much-needed relief to your tired back muscles.
– Massaging and Stretching Tight Muscles: Knead and Release
Tight muscles can contribute to back pain, and here's where the yoga wheel shines. As you roll back and forth on the wheel, it acts as a massage therapist, kneading and releasing tension in your muscles.
The wheel's curved surface targets specific areas, like your shoulders, upper back, and lower back, providing a deep and rejuvenating stretch. So, say goodbye to those knots and hello to sweet muscle relaxation.
– Improving Spinal Flexibility and Alignment: Flex and Align  
Regular use of a yoga wheel can enhance your spinal flexibility and promote proper alignment. As you move through different exercises and stretches, the wheel encourages your spine to extend, improving its range of motion.
It also helps to strengthen the supporting muscles along your spine, contributing to better posture and reduced strain on your back.
Specific Exercises for Back Pain Relief: Wheel Therapy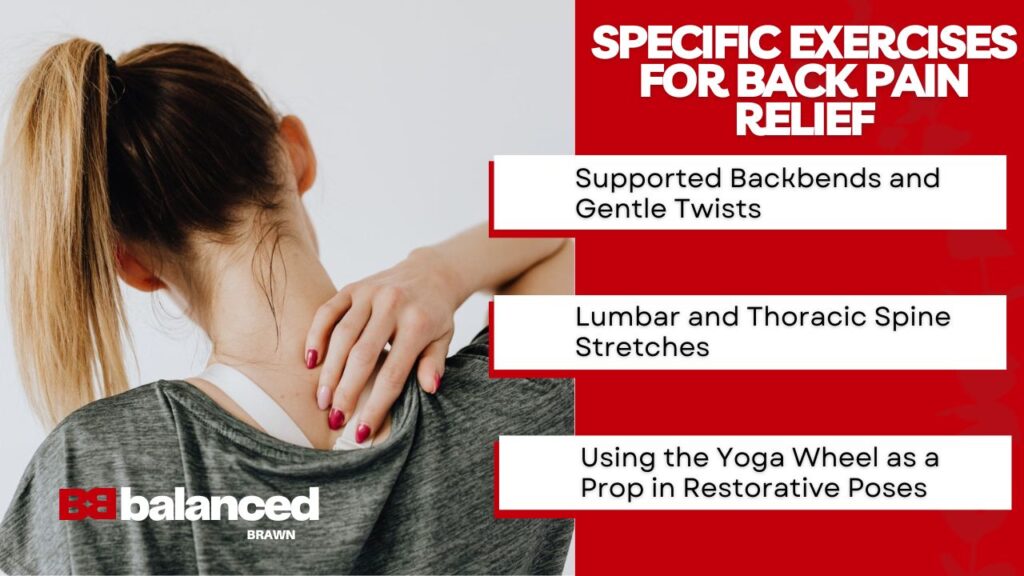 Now, let's dive into some specific exercises that can provide targeted relief for your back pain. Remember to approach these exercises with care and listen to your body's feedback.
If any movement exacerbates your pain, modify or skip it altogether.
– Supported Backbends and Gentle Twists: Bend and Unwind  
Supported backbends with a yoga wheel can be a game-changer for back pain relief. Lie on your back and position the wheel under your mid to upper back.
Slowly roll back and forth, allowing the wheel to gently massage and stretch your back muscles. You can also experiment with gentle twists by placing the wheel under one side of your back and rotating your torso, releasing tension and promoting spinal mobility.
– Lumbar and Thoracic Spine Stretches: Lengthen and Release
To target specific areas of your back, try focusing on lumbar and thoracic spine stretches. For a lumbar stretch, sit on the ground with your legs extended and place the wheel vertically against your lower back.
Roll up and down, targeting the lower portion of your spine. For a thoracic stretch, sit on the ground with your knees bent and feet flat. Position the wheel vertically behind you and slowly lean back, allowing the wheel to support your mid to upper back. Feel the gentle stretch and release as you breathe deeply.
– Using the Yoga Wheel as a Prop in Restorative Poses: Rest and Restore
Incorporating the yoga wheel as a prop in restorative poses can provide deep relaxation and rejuvenation for your back.
For example, try placing the wheel under your knees or feet while lying in Savasana (Corpse Pose). This slight elevation and support can alleviate pressure on your lower back and promote a sense of ease and comfort.
Remember, consistency is key when using yoga wheels for back pain relief. Incorporate these exercises into your routine, gradually increasing the duration and intensity as your body adapts. Always listen to your body and consult with a healthcare professional if you have any pre-existing conditions or concerns.
Are Yoga Wheels Good for You? Unleash the Wheel Potential!  
Positive Aspects of Using Yoga Wheels: Wheel Power Unleashed!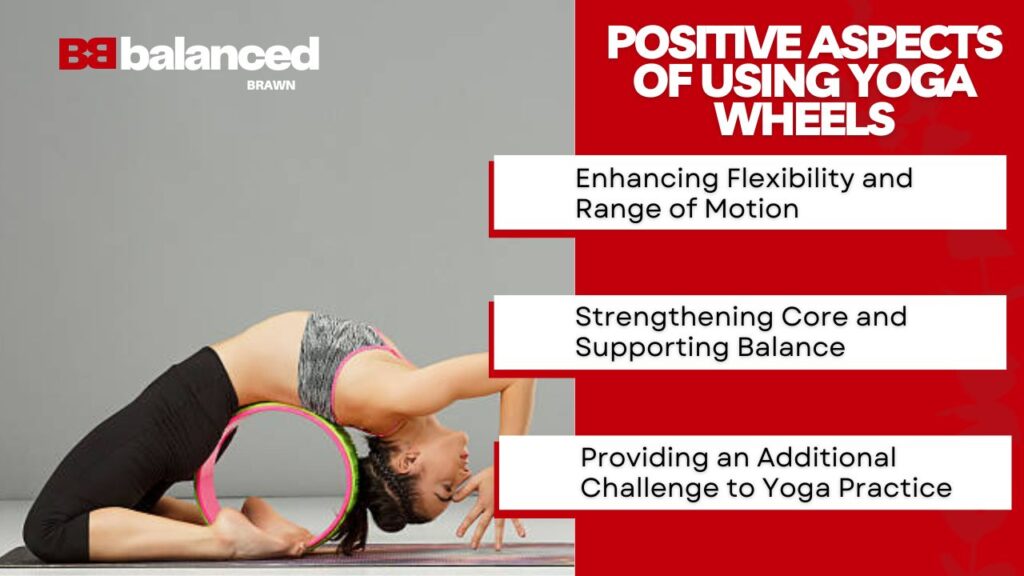 Using a yoga wheel can offer a multitude of benefits that contribute to your overall fitness and well-being.
Let's delve into the positive aspects that make yoga wheels a fantastic addition to your practice.
– Enhancing Flexibility and Range of Motion: Bend it, Stretch it!
Yoga wheels are excellent tools for improving flexibility and increasing your range of motion. As you incorporate the wheel into your poses and exercises, it encourages deeper stretches and helps you access positions that may have felt elusive before.
With regular use, you'll notice increased suppleness in your muscles, joints, and connective tissues, allowing you to explore new depths in your practice.
– Strengthening Core and Supporting Balance: Roll and Engage!
One of the remarkable benefits of using a yoga wheel is its ability to engage your core muscles and support balance. The unstable surface of the wheel challenges your stability, prompting your core muscles to work harder to maintain control and alignment.
As a result, you'll develop a stronger and more stable core, which translates into improved balance not only on the wheel but in your everyday activities as well.
– Providing an Additional Challenge to Yoga Practice: Wheel of Progression!
If you're seeking to spice up your yoga practice and take it to the next level, the yoga wheel is your ticket to an added challenge. Whether it's deepening your backbends, exploring inversions, or incorporating dynamic movements, the wheel offers endless possibilities to test your limits and ignite your inner fire.
It adds a playful and adventurous element to your practice, keeping you inspired and motivated to push beyond your comfort zone.
Considerations for Different Fitness Levels and Body Types: Wheel-Smart Choices
While yoga wheels offer numerous benefits, it's essential to consider individual fitness levels and body types to ensure a safe and enjoyable practice.
Let's explore some key considerations when incorporating yoga wheels into your fitness routine.
– Modifications for Beginners and Individuals with Limited Mobility: Start Wheel-Smart!
If you're new to yoga or have limited mobility, fear not! Some modifications and variations make yoga wheels accessible to everyone. Begin with gentle stretches and basic exercises, gradually building strength, flexibility, and confidence.
Start with smaller movements and gradually progress as your body adapts. Remember, it's about the journey, not the destination, so honor your body's limits and celebrate your unique progress.
– Potential Risks for Individuals with Certain Injuries or Conditions: Wheel with Caution!
While yoga wheels are generally safe and beneficial, there are some considerations for individuals with specific injuries or conditions.
If you have pre-existing back issues, spinal conditions, or injuries, it's crucial to consult with a healthcare professional or a qualified yoga instructor before incorporating a yoga wheel into your practice. They can guide suitable exercises, modifications, or alternatives to ensure your safety and well-being.
– Consulting with a Healthcare Professional if Uncertain: Wheel-Smart Advice!
If you're unsure whether yoga wheels are suitable for you, or if you have any concerns or medical conditions, it's always wise to consult with a healthcare professional.
They can provide personalized advice based on your individual circumstances, helping you make informed decisions and tailor your practice to your specific needs.
The key is to listen to your body, stay curious, and have fun as you unlock the wheel potential and elevate your practice to new heights!
Are Yoga Wheels Bad for Your Back? Busting the Wheel Myth!
Addressing Concerns about Spinal Health: Rollin' with Proper Technique!  
You may have heard some whispers in the fitness world about potential risks to your back when using yoga wheels.
Fear not, dear reader, as we're here to address these concerns and put your mind at ease. When used with proper technique and alignment, yoga wheels can be a safe and beneficial tool for your back health.
– Proper Technique and Alignment to Avoid Strain: Wheel of Alignment!
The key to a happy and healthy back lies in proper technique and alignment when using a yoga wheel. Ensure that you're positioning your body correctly on the wheel, placing it under the appropriate body parts to distribute weight evenly and avoid undue strain.
Maintain good posture and engage your core muscles to support your spine. With mindful attention to technique, you can roll along smoothly without causing harm.
– Gradual Progression and Avoiding Excessive Force: Wheel with Care!
To ensure the well-being of your back, it's important to approach yoga wheel exercises with a gradual progression and a dose of common sense.
Start with gentle movements and gradually increase the intensity and difficulty as your body adapts and grows stronger. Avoid excessive force or pushing beyond your limits, as this can lead to strain or injury. Remember, Rome wasn't built in a day, and your back needs time to adjust and strengthen.
Potential Risks and Precautions: Tune in to Your Body's Symphony!
While yoga wheels can be a wonderful addition to your fitness routine, it's crucial to be aware of potential risks and take necessary precautions to protect your back.
– Listening to Your Body and Avoiding Pain or Discomfort: Wheel-Smart Listening!
Your body is a magnificent instrument, capable of sending signals when something doesn't feel right. Pay attention to these signals! If you experience pain or discomfort while using a yoga wheel, it's crucial to listen and respond accordingly.
Modify or back off from the pose or exercise causing discomfort, and explore alternative movements that feel more comfortable for your back. Your body knows best, so give it the respect and care it deserves.
– Consulting with a Qualified Instructor for Guidance: Seek the Wheel Whisperers!
If you're unsure about using yoga wheels or have specific concerns regarding your back health, seek guidance from a qualified yoga instructor or fitness professional.
They can provide personalized advice, address your concerns, and offer modifications or alternatives that suit your individual needs. Their expertise will guide you on the path to a safe and fulfilling yoga wheel practice.
Are Yoga Wheels Safe? Roll with Confidence!
Construction and Quality of Yoga Wheels: Building a Solid Foundation!
When it comes to safety, the construction and quality of your yoga wheel play a vital role. Let's dive into what you need to know about ensuring a safe and sturdy yoga wheel experience.
– Choosing a Durable and Well-Made Yoga Wheel: Wheel-tactic Quality Matters!
Investing in a high-quality yoga wheel is essential for your safety and long-term enjoyment. Look for wheels made from sturdy materials such as durable ABS plastic or eco-friendly cork, which can withstand the demands of your practice.
Check for reputable brands known for their quality craftsmanship and attention to detail. Remember, a strong foundation sets the stage for a safe and fulfilling yoga wheel journey!
– Considering Weight Capacity and Material Used: Wheel Power for All!
Different yoga wheels have varying weight capacities, so it's essential to choose one that can support your body weight. Check the manufacturer's guidelines to ensure that the wheel is designed to accommodate your weight safely.
Additionally, be mindful of the material used in the wheel. Opt for non-slip surfaces or padding to enhance grip and stability during your practice. By considering these factors, you'll roll with confidence and peace of mind.
Proper Usage and Precautions: The Wheel Code of Safety!
To ensure a safe and injury-free yoga wheel experience, it's crucial to practice proper usage and take necessary precautions. Let's explore some key guidelines to keep in mind.
– Reading and Following Manufacturer Instructions: Unlock the Safety Manual!  
Every yoga wheel comes with manufacturer instructions that outline its specific usage guidelines and safety recommendations. Take the time to read and understand these instructions thoroughly before using your wheel.
They provide valuable insights into proper techniques, weight limits, and any precautions you need to be aware of. Following these instructions diligently will keep you on the wheel-safe path.
– Avoiding Extreme or Unsupported Movements: Wheel of Sensible Balance!
While yoga wheels can empower your practice, it's essential to avoid extreme or unsupported movements that could potentially lead to injury. Respect your body's limits and listen to its cues. Avoid putting excessive pressure on vulnerable areas or forcing yourself into positions that feel unstable or uncomfortable.
Remember, balance is the key. Maintain control, stay within a comfortable range of motion, and let the wheel support and enhance your practice safely.
Using Yoga Wheels Under Guidance: Unleash the Wheel Wisdom!
If you're new to yoga wheels or want to refine your skills, seeking guidance from a certified yoga instructor is a wheel-smart choice. They can provide valuable insights, offer personalized advice, and ensure that you're practicing with the proper form and technique.
Consider taking yoga wheel classes or workshops where you can learn essential skills, receive hands-on guidance, and gain a deeper understanding of how to use the wheel safely and effectively. With their expertise, you'll unlock the wheel of wisdom and elevate your practice to new heights.
Are Yoga Wheels Good for Your Back? Unleash the Wheel Power!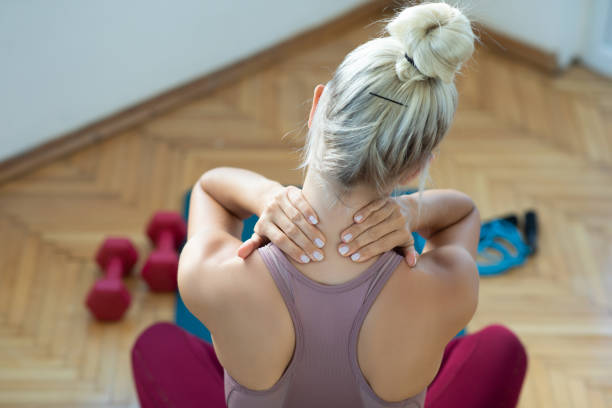 Benefits of Yoga Wheels for Back Health: Give Your Back Some Wheel Love!
Ah, the wonders of yoga wheels for your back! Let's check into the magical benefits that these round wonders can bring to your spine.
– Strengthening and Lengthening Spinal Muscles: Wheel-tactic Back Strength!
Using a yoga wheel engages and activates the muscles along your spine, helping to strengthen and tone them. As you roll and maneuver on the wheel, your back muscles work hard to maintain stability and control.
This dynamic engagement helps build strength and endurance in the spinal muscles, promoting a healthy and resilient back
– Mobilizing and Improving Flexibility in the Back: Wheel of Flexibility!
The gentle curvature of a yoga wheel allows for targeted stretching and mobilization of the back. As you roll along the wheel, it encourages a lengthening and opening of the spinal vertebrae, promoting increased flexibility and range of motion.
The wheel's supportive surface helps release tension and tightness, giving your back the freedom to move and bend with ease.
Complementing a Well-Rounded Yoga Practice: The Wheel's Perfect Harmony!
Yoga wheels are not meant to replace your regular yoga practice but to complement and enhance it.
Let's explore how you can integrate the wheel seamlessly into your well-rounded routine.
– Integrating Yoga Wheels into a Diverse Routine: Wheel Fusion, Anyone?
The beauty of yoga lies in its diversity, and the same applies to incorporating yoga wheels into your practice. Seamlessly blend wheel exercises with other yoga poses to create a harmonious flow.
For example, combine chest-opening wheel stretches with gentle forward folds or invigorating sun salutations. The wheel adds a touch of magic and variety to your routine, keeping things fresh and exciting.
– Balancing Wheel Exercises with Other Yoga Poses: The Wheel's Equilibrium!
Just as balance is essential in life, it's crucial to find equilibrium in your yoga practice. While wheel exercises can work wonders for your back, it's important to balance them with other poses that target different muscle groups and aspects of your body.
This ensures a well-rounded practice that nurtures your entire being. So, alternate between wheel movements and poses that focus on strength, balance, and grounding. Your body and mind will thank you for the harmonious blend.
What Are Yoga Wheels Used For? Unleash Your Wheel Power!
Versatility of Yoga Wheels: Your Ultimate Yoga Sidekick!
Yoga wheels are not your ordinary fitness accessory; they're incredibly versatile and can elevate your practice in multiple ways. Let's explore the exciting ways yoga wheels can be used.
– Supporting Various Yoga Poses and Stretches: The Wheel's Supporting Role!
Yoga wheels act as your trusty support system, allowing you to explore a wide range of poses and stretches with ease. Whether it's providing a gentle lift in backbends, assisting in deepening stretches like hip openers or aiding in balance during challenging poses, the wheel has your back.
It adds an extra layer of support, allowing you to delve deeper into your practice and unlock new dimensions of flexibility and strength.
– Assisting in Balance and Stability Exercises: Wheel-balancing Superpowers!
Balancing on a yoga wheel takes your stability exercises to a whole new level. The rounded surface challenges your core muscles, enhancing balance, coordination, and proprioception.
From standing poses to one-legged balances, the wheel adds an element of instability that activates your deep stabilizing muscles, giving you a rock-solid foundation for any pose.
– Deepening Stretches and Enhancing Flexibility: The Wheel's Stretch Magic!
If you crave deeper, more fulfilling stretches, look no further than the yoga wheel. Its gentle curvature supports your body as you roll along, offering a delicious stretch to various muscle groups.
Whether it's your back, hips, hamstrings, or chest, the wheel helps release tension, lengthen muscles, and unlock new realms of flexibility. With the wheel as your stretching companion, you'll feel like a yoga contortionist in no time!
Creative Uses Outside of Yoga Practice: Wheel Power Beyond the Mat!
Guess what? Yoga wheels aren't limited to just yoga. They have a place in other fitness realms too. Let's explore some exciting ways to unleash the wheel's potential beyond your yoga practice.  
– Incorporating Yoga Wheels into Strength Training Routines: Wheel of Strength!
Who said yoga wheels are only for stretching? Bring them into your strength training routines to add a touch of excitement and challenge. From push-ups and planks with your hands on the wheel to leg exercises with the wheel as resistance, the possibilities are endless.
The wheel adds an element of instability, engaging your muscles in unique ways and taking your strength training to a whole new level.
– Using the Wheel for Myofascial Release and Self-Massage: Wheel of Relaxation!
The magic of yoga wheels extends to the realm of myofascial release and self-massage. By rolling different body parts along the wheel's surface, you can target tight muscles and release tension.
Whether it's rolling out your back, legs, or even the soles of your feet, the wheel acts as your personal massage therapist, kneading away knots and promoting relaxation. It's a self-care tool that combines the power of yoga and the benefits of massage.
Do Yoga Wheels Work? Unleashing the Wheel's Magic!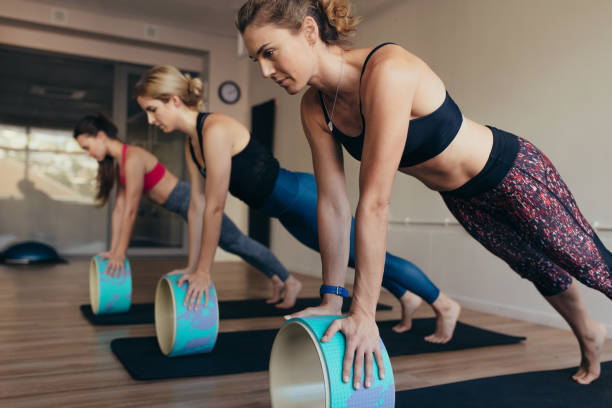 Effectiveness of Yoga Wheels: The Wheel's Track Record!
Ah, the age-old question: Do yoga wheels really work? Let's dive into the realm of experiences, testimonials, and research to uncover the truth.
– Positive Experiences and Testimonials from Practitioners: Wheel Tales of Triumph!
Ask any yoga enthusiast who has embraced the wheel, and they'll likely share stories of triumph and transformation.
Countless practitioners have experienced the benefits of yoga wheels firsthand, from improved flexibility and strength to a deeper connection with their practice. Their glowing testimonials are a testament to the wheel's effectiveness in enhancing the yoga experience.
– Research and Studies on the Benefits of Yoga Props: Science Meets the Wheel!
Scientific research has also delved into the realm of yoga props, including yoga wheels, to examine their impact on practitioners.
Studies have highlighted the benefits of using props to improve alignment, increase the range of motion, and enhance stability. While specific studies on yoga wheels may be limited, the broader research on yoga props suggests their efficacy in supporting a well-rounded practice.
Individual Results and Personal Experimentation: Unlock Your Wheel Potential!
When it comes to yoga and fitness, personal experiences can vary greatly. The effectiveness of yoga wheels may depend on various factors, including individual body mechanics, commitment to practice, and the exploration of different poses and exercises. Here's how you can unlock the wheel's potential for yourself.
– Exploring Different Poses and Exercises with the Wheel: Wheel Wanderlust!
Embrace your inner explorer and embark on a journey of discovery with the yoga wheel. Try different poses and exercises, such as backbends, chest openers, and core strengtheners, to see how the wheel enhances your practice.
Each body is unique, so listen to your body's cues and experiment with different variations to find what works best for you.
– Recognizing that Individual Experiences May Vary: Wheel Tales of Uniqueness!
Remember, boys and girls, that individual experiences may vary. What works like magic for someone else may have a different effect on you.
Embrace the journey, celebrate your progress, and trust that with consistent practice and an open mind, you'll uncover the wheel's potential and find your own unique connection with it.
So, does the yoga wheel work? The resounding answer is a joyful "Yes!" The positive experiences of practitioners, coupled with the broader research on yoga props, affirm the wheel's effectiveness.
However, remember that personal experimentation and exploration are key to unlocking your wheel magic. Embrace the journey, trust in your body's wisdom, and let the wheel work its transformative wonders in your practice.
The Bottom Line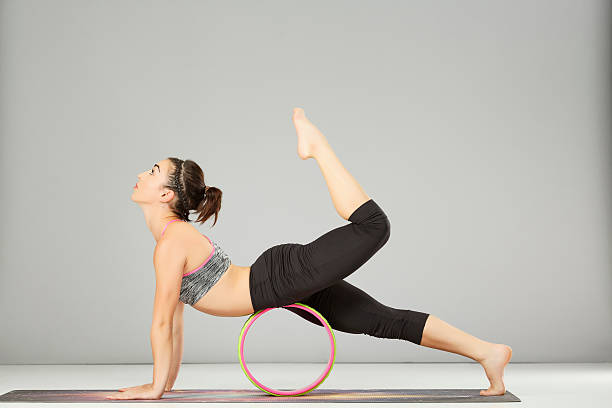 Congratulations on completing our ultimate guide to yoga wheels! You've gained a wealth of knowledge about these versatile tools and their potential to enhance your yoga practice.
From understanding the purpose and design of yoga wheels to exploring the various exercises and benefits they offer; you're now equipped with the information needed to incorporate them into your fitness routine.
Remember, when using yoga wheels, always prioritize proper alignment, listen to your body, and consult with a qualified instructor if needed.
Whether you're seeking relief from back pain, improving flexibility, or adding an exciting challenge to your workouts, yoga wheels can be a valuable addition to your wellness journey.
So, grab your yoga wheel, roll into action, and unlock the incredible possibilities it holds. Embrace the strength, balance, and serenity that yoga wheels can bring to your practice.
Let your journey with yoga wheels be a testament to the power of innovation and the limitless potential within you. Good day!