Table of Contents
In the pursuit of fitness and a toned physique, understanding the calorie-burning potential of different workouts is crucial.
Ab Ripper X, a popular component of the P90X fitness program, is renowned for its intense abdominal workout.
This article aims to explore the calorie-burning potential by answering How Many Calories Does Ab Ripper X Burn? taking into account factors such as body weight, intensity, and duration of the workout.
What is Ab Ripper X Workout?
Ab Ripper X is a challenging workout routine that specifically targets the abdominal muscles. Created by Tony Horton, it is part of the comprehensive P90X program designed to improve overall fitness levels.
This segment of the program incorporates unique and highly effective exercises, combining core muscle-building with fat-burning potential.
Importance of Calorie Burn in Fitness
Calorie burn plays a crucial role in achieving fitness goals, particularly in weight management. When we engage in physical activities that burn calories, we create a calorie deficit, which can lead to weight loss.
Understanding the calorie-burning potential of specific exercises helps us make informed decisions about our fitness routines.
Understanding Ab Ripper X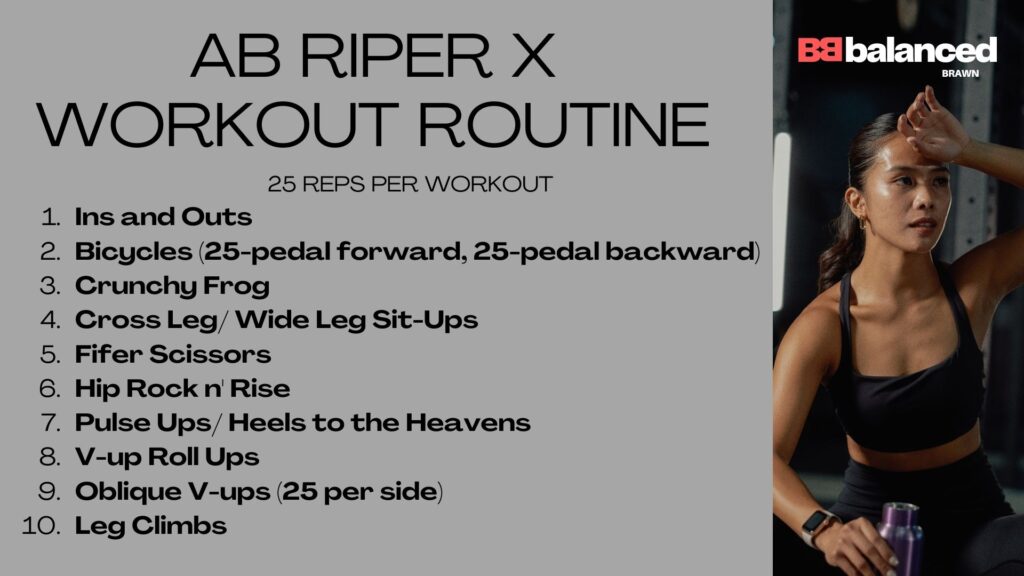 Overview of the Ab Ripper X Workout
Ab Ripper X consists of a series of exercises that target the core muscles, including the rectus abdominis, obliques, and transverse abdominis.
The workout typically lasts for about 15 minutes, during which participants perform various movements with high repetitions and minimal rest.
Key Exercises and Techniques
The Ab Ripper X routine includes exercises such as crunches, leg lifts, bicycles, and Mason twists, among others.
These exercises utilize body weight and engage multiple muscle groups to strengthen the core. Proper form and technique are crucial to maximize effectiveness and minimize the risk of injury.
Targeted Muscles and Benefits
Ab Ripper X primarily focuses on the abdominal muscles, including the coveted six-pack muscles.
At the same time, it also engages other muscle groups in the core, such as the lower back and hip flexors. The benefits of Ab Ripper X extend beyond aesthetics, as a strong core enhances stability, posture, and overall athletic performance.
Factors Affecting Calorie Burn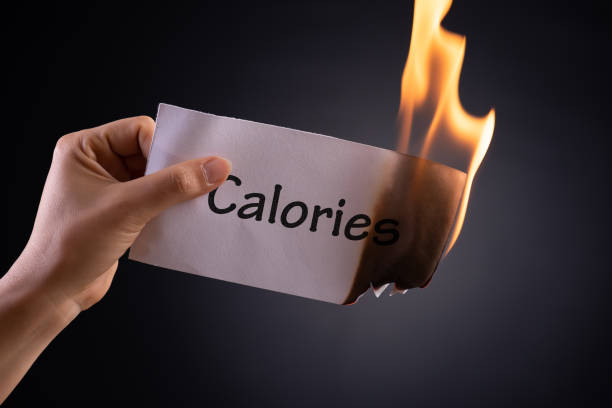 Body Weight and its Impact
Body weight plays a significant role in determining calorie burn during physical activities. Generally, individuals with higher body weights burn more calories due to increased exertion.
This is because the body requires more energy to move and perform exercises when carrying additional weight.
Intensity and Effort Level
The intensity and effort level exerted during the Ab Ripper X workout directly impacts the number of calories burned.
Intense and focused movements, combined with proper form, increase heart rate and elevate metabolism, leading to higher calorie expenditure.
Duration of the Workout
The duration of the Ab Ripper X workout also affects calorie burn. Although Ab Ripper X is a relatively short routine, every minute of intense exercise contributes to calorie expenditure.
It's important to note that longer workouts do not necessarily translate to more calories burned if the intensity is compromised.
Calorie Burn Estimates for Ab Ripper X
Calculating Calories Burned: Methodology
Estimating calorie burn is challenging due to individual variations and factors like metabolism and fitness level.
However, using established formulas based on body weight, duration, and intensity provides a useful estimate of calorie expenditure.
Estimated Calorie Burn Chart Based on Body Weight
Here's an estimate of the calories burned during Ab Ripper X based on different body weights:
– Case Study 1: Body Weight = 150 Pounds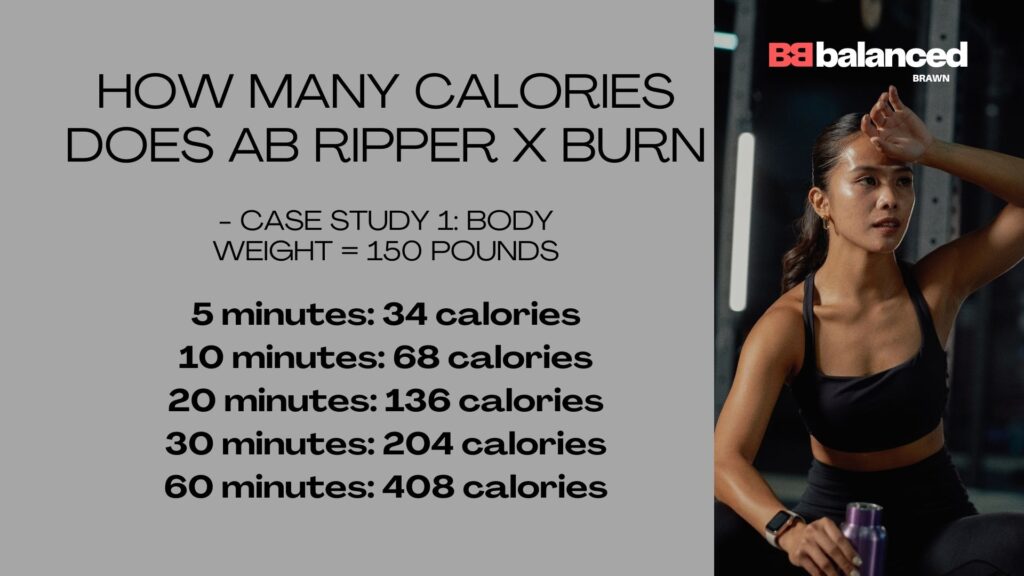 5 minutes: 34 calories
10 minutes: 68 calories
20 minutes: 136 calories
30 minutes: 204 calories
60 minutes: 408 calories
– Case Study 2: Body Weight = 200 Pounds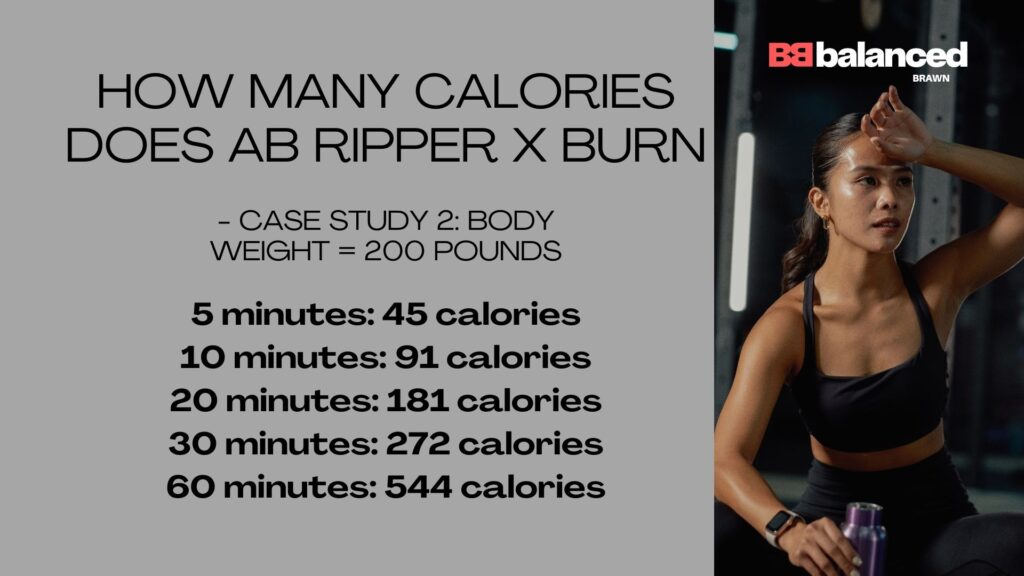 5 minutes: 45 calories
10 minutes: 91 calories
20 minutes: 181 calories
30 minutes: 272 calories
60 minutes: 544 calories
– Case Study 3: Body Weight = 250 Pounds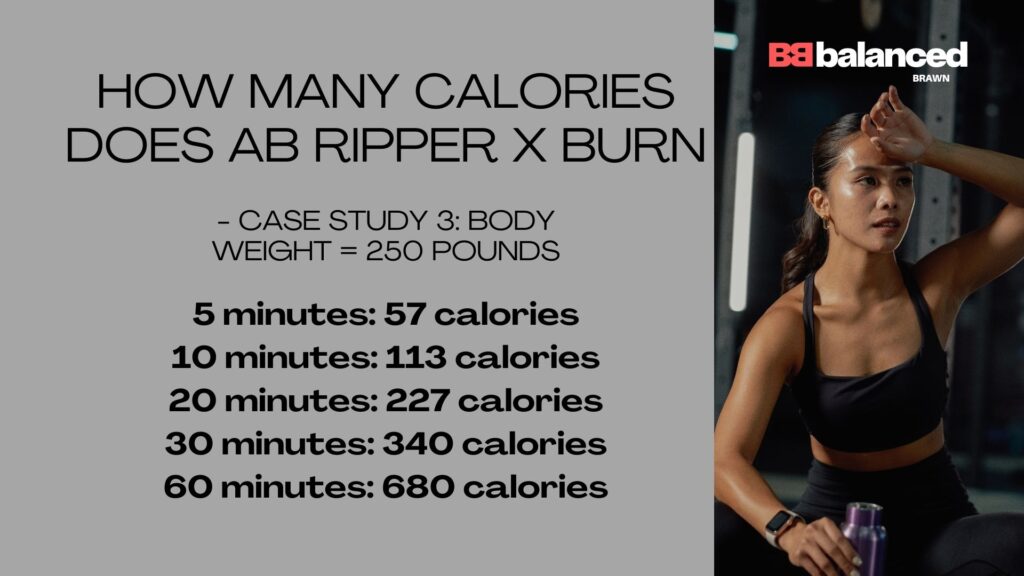 5 minutes: 57 calories
10 minutes: 113 calories
20 minutes: 227 calories
30 minutes: 340 calories
60 minutes: 680 calories
Maximizing Calorie Burn with Ab Ripper X
Increasing Intensity and Difficulty
To enhance calorie burn during Ab Ripper X, gradually increase the intensity and difficulty of the exercises.
This can be achieved by adding resistance, increasing repetitions, or incorporating advanced variations of the movements.
Incorporating Circuit Training and Interval Workouts
Combine Ab Ripper X with circuit training or interval workouts to further elevate calorie burn.
Alternating between intense bursts of Ab Ripper X exercises and cardio-based activities keeps the heart rate elevated, increasing overall calorie expenditure.
Combining Ab Ripper X with Cardiovascular Exercises
Pairing Ab Ripper X with cardiovascular exercises, such as running, cycling, or jumping rope, creates a well-rounded workout routine.
Cardiovascular exercises engage larger muscle groups and increase overall calorie burn, complementing the abdominal workout.
Tracking and Monitoring Calorie Burn
Using Fitness Trackers and Heart Rate Monitors
Fitness trackers and heart rate monitors provide valuable data on calorie burn during workouts.
These devices track heart rate, movement, and exertion levels, allowing for more accurate estimates of calories burned during Ab Ripper X and other activities.
Benefits of Tracking Calorie Burn
Tracking calorie burn helps individuals set realistic fitness goals, monitor progress, and make adjustments to their routines as needed.
It provides motivation and a sense of accomplishment, encouraging individuals to maintain an active and balanced lifestyle.
Other Metrics to Consider
While calorie burn is important, it's essential to consider other metrics such as strength, endurance, and overall well-being. A balanced fitness routine should encompass various aspects of physical fitness to achieve overall health and longevity.
P90X: Workout Plans
If you're looking to develop a profound understanding of the P90X workout regimen, we have curated an assortment of posts that intricately explore the specifics of its exercises. We highly recommend delving into these insightful articles to acquire comprehensive knowledge of this renowned fitness program.
P90X Chest and Back Workout: The Ultimate Upper Body Blitz
P90X: Arms and Shoulders Workout: A Simple Breakdown of 5-Supersets!
Bottom Line
Ab Ripper X offers a challenging and effective abdominal workout that not only strengthens the core muscles but also contributes to calorie burn.
Understanding the factors that affect calorie expenditure, such as body weight, intensity, and duration, helps individuals gauge the potential benefits of this workout.
By incorporating Ab Ripper X into a well-rounded fitness routine, individuals can maximize calorie burn, improve core strength, and achieve their fitness goals.
Remember to listen to your body, maintain proper form, and consult with a healthcare professional before beginning any new exercise program.