Table of Contents
If you find yourself Googling "How much does a trap bar weigh?" before making a new gym equipment purchase, you're not alone. Knowing the typical weight range can help ensure you select the right trap bar for your needs.
Like any specialty barbell, the actual weight of a trap bar varies based on its size, loading capacity, and materials used. Let's dig into the standard weights you can expect:
Factors That Impact Trap Bar Weight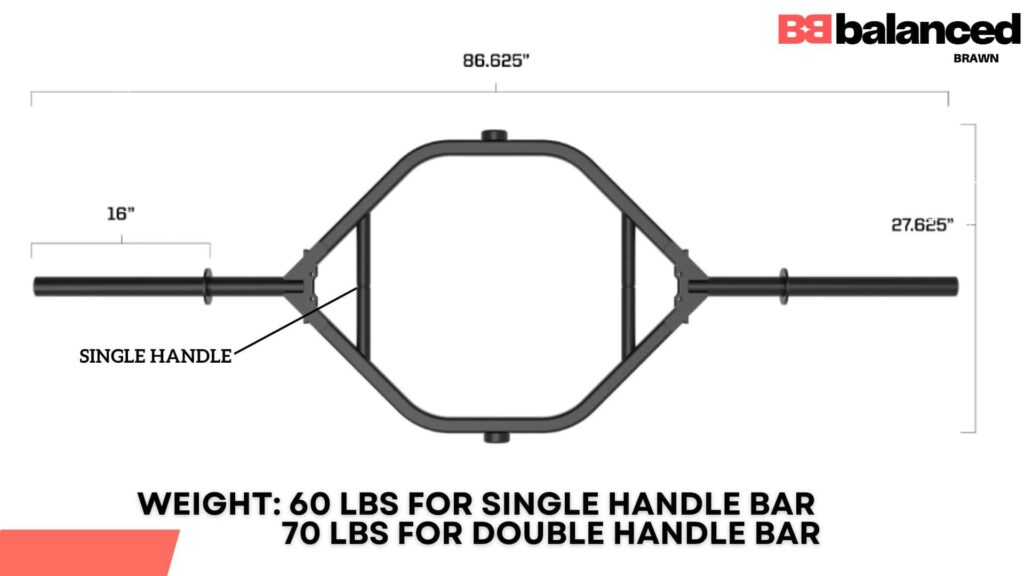 Several key design aspects factor into the overall weight and loading capacity of a trap bar:
1. Construction Material
Steel is the heaviest and most durable. Lightweight metals or alloys reduce weight but may compromise on strength ratings.
2. Handle Design
More complex multi-grip options add weight over basic single-grip handles. Open vs closed handles also impact weight.
3. Weight Horns
If weight plate storage horns are included, these can add 5-15 lbs or more to the total weight. Not all bars include weight horns.
4. Adjustability
Features allowing adjustable handle height and widths add more material and weight vs fixed dimensions bars.
5. Loading Capacity
Heavier duty bars built for extremely high weight loads will inherently weigh more than lower-capacity basic bars.
6. Coatings
Some bars add textured coatings like zinc or chrome for grip and corrosion resistance which can increase the weight slightly.
Now that you know what design factors influence the weight, let's look at typical trap bar weight ranges…
Standard 45 lb Olympic Trap Bars
Many novice-level trap bars designed for general training are made to weigh about 45 lbs. This matches a standard 45 lb Olympic barbell and makes plate math easy.
With smaller 24-30" length bars made of basic steel with thin single grip handles and no horns, a weight of 40-50 lbs is common in this beginner category. 
These bars may be rated for 300-500 lbs weight capacity only. But the roughly 45 lb weight makes an easy transition for those used to barbells. You can load plates as normal without recalculating. 
Mid-Range 55-65 lb Trap Bars
Moving up in quality and durability, many mid-range trap bars designed for more serious strength training weigh 55-65 lbs.
These bars are often thicker Olympic-grade steel or metal alloys. They may include crosshatch grip texturing, bearing sleeves, multiple grip options, and compact weight plate horns adding 10-15 lbs.
With higher weight capacities in the 500-800 lb range, the overall bar weight increases. But this added durability lets you safely move some big weight. A 5-20 lb jump from a basic bar is negligible when lifting near the higher capacity limits. 
Heavy Duty 70-100+ lb Bars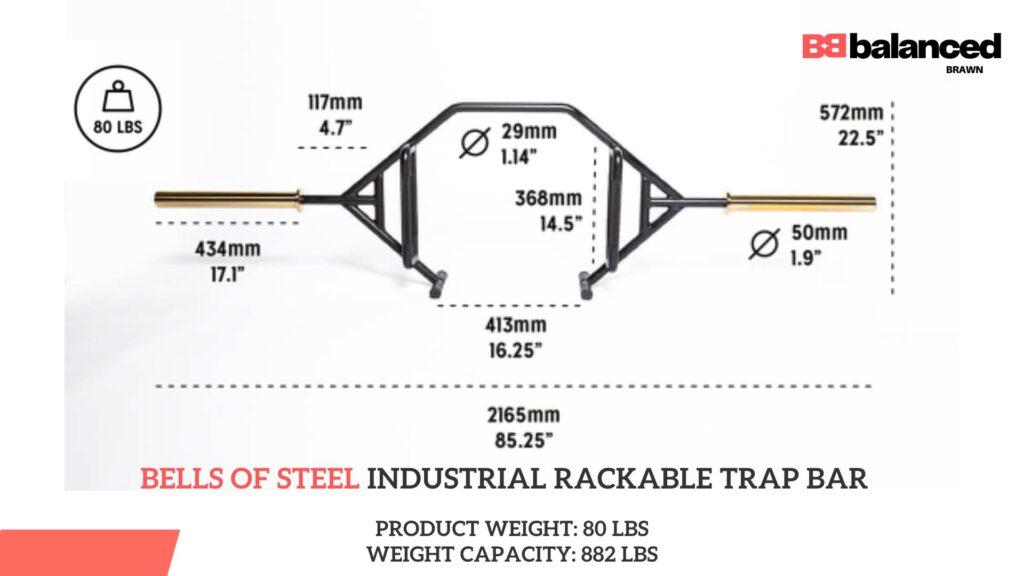 At the top end, commercial grade trap bars built for elite powerlifting and Strongman training can tip scales at 70-100+ lbs unloaded.
Thicker steel or composite materials allow these bars to support well over 1,000+ lbs in some cases. The extra metal and welding required naturally result in a heavier base weight.
Don't let the heftier bar weight throw you off – it's a must for stability and safety under massive loads equivalent to triple body weight for some monster deadlifts!
Standard Trap Bar Weight By Brand
To give you a better idea of expectations, here are typical weight ranges by some top trap bar manufacturers:
1. Rogue Trap Bars
Among the most sought-after trap bars in the market, the TB-2 TRAP BAR and TB-1 TRAP BAR 2.0 typically weigh between 60 to 65 lbs, making them a preferred choice for many fitness enthusiasts.
2. Titan Trap Bars
The product range stands out for its wide variety, surpassing that of competitors, featuring four versatile options: Olympic Hex Weight Bar at 44 lbs, EZ Load Hex Bar V2 at 54 lbs, Rackable Hex Trap Bar V3 at 60 lbs, and Open Trap Bar at 65 lbs.
4. FringeSport Trap Bars
FringeSport offers two standard models weigh 45 lbs each, yet their weight capacities vary significantly, ranging from 600 to 990 pounds, due to differences in their design and construction.
5. Sorinex Trap Bars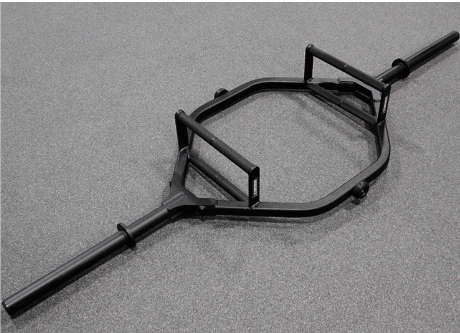 The most popular option is the Diamond Trap Bar, which comes in two variations: single and double handles. The weight of Sorinex Diamond Trap Bars is approximately 60-70 lbs, respectively.
6. Bells of Steel Trap bars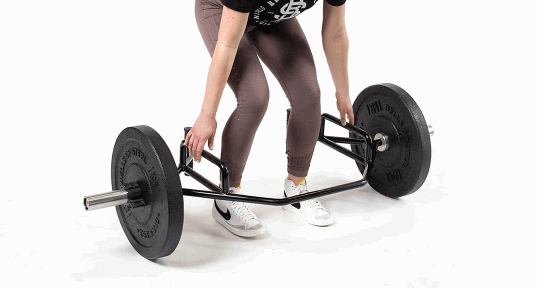 They offer two options for the trap bars: one is called the Hex Bar 3.0, weighing 47 lbs, and the other is the Industrial Rackable Trap Bar, weighing 80 lbs.
As with any specialty barbell purchase, be sure to check the exact specs of the model you are considering for exact unloaded weight info.
Having a 45 lb Olympic barbell on hand can also help you sanity check shipping weight when your new trap bar first arrives. Weigh the package on a home scale before opening it for peace of mind.
Adding Load to a Trap Bar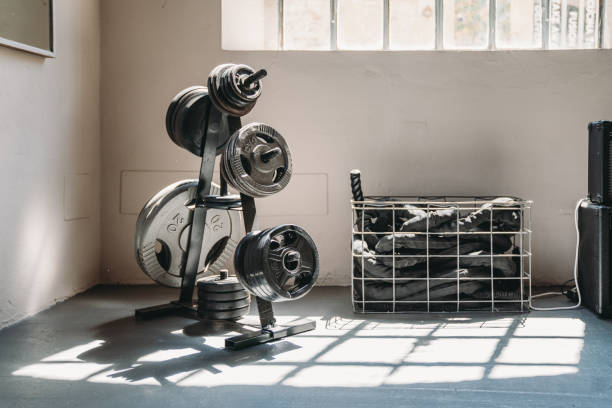 Now that you know trap bars themselves represent a significant starting weight, let's discuss how plate loading works:
Most quality trap bars have 2" diameter steel sleeves allowing standard-size Olympic plates to be added. The most common plates include: 
2.5 lb plates
5 lb plates
10 lb plates
25 lb plates
35 lb plates
45 lb plates
100 lb plates
Bumper plates made of rubber or urethane are commonly used for deadlifting to allow dropping weights from the top position.
Steel plates may be more affordable but require controlling the negative on trap bar exercises. Use bumper plates if you plan to incorporate explosive lifts like cleans.
The sleeve diameter allows fitting plate pairs up to around 25-45 lbs per side safely. Larger 100 lb plates may fit but can bend sleeves over time.
Typical Trap Bar Loading in Action
To make this all more practical, let's look at a few examples of a 300 lb trap bar deadlift session:
1. 45 lb Trap Bar
Bar Weight: 45 lbs 
Plates Per Side: 45's, 25's, 10's, 5's  
Total Weight: 45 lbs (bar) + 225 lbs (plates) = 270 lbs
2. 65 lb Trap Bar 
Bar Weight: 65 lbs  
Plates Per Side: 45's, 25's 
Total Weight = 65 lbs (bar) + 180 lbs (plates) = 245 lbs
3. 80 lb Trap Bar
Bar Weight: 100 lbs 
Plates Per Side: 45's, 25's  
Total Weight = 80 lbs (bar) + 140 lbs (plates) = 220 lbs
The heavier the empty trap bar, the fewer plates are required to reach a given total lift weight. But it's easiest to start light with just the bar until you get a feel for the new loading dynamics.
When Bar Weight Matters Less
While it's good to be aware of unloaded trap bar weight, it ultimately matters much less once you are lifting heavy.
For example, on a 500 lb trap bar deadlift, a 45 lb vs 65 lb bar represents just a 13% difference in total load. At higher percentages of your 1RM, that gap narrows even more.
On a 3-5 rep max attempt, you likely won't perceive much difference between a 300 lb total lift with a 45 lb bar vs 275 lbs with a 65 lb bar. The plates dominate the loading.
So while it's useful to know the general trap bar weight range, don't get overly fixated on small unloaded weight variations when pushing big weights.
Adding More Plates for Higher Weight Capacity
One final consideration for maximum load trap bars is fitting enough plates to reach the higher weight capacities:
While most 400-500 lb bars allow around 25-45 lbs per sleeve with 2" Olympic plates, heavier-duty bars require bigger plates and collar locks.
For a +700 lb weight capacity, you'll need the option to load additional 100 lb plates to reach that potential. This may require special collars that can hold (4) 100's per side.
Make sure your plate collection and budget allow purchasing enough weight. You don't want to outgrow a heavy bar's potential due to limited plates on hand.
Best Practices for Weighing Trap Bars
If you need to know your specific bar's weight more accurately, here are some options:
Use a high-capacity digital scale if available
Visit a commercial gym and ask to weigh bar on their calibrated floor scale
Ship bar to UPS Store location and ask staff to weigh package for you
Calculate based on shipping weight from receipt if bought online
Compare unloaded feel to a known 45 lb barbell
Getting an exact weight down to 0.1 lbs isn't crucial. But these methods can provide peace of mind if the weight feels significantly off from the advertised specs.
Bottom Line
While trap bars do have some inherent weight, their "heftiness" compared to straight bars allows moving bigger loads with better leverage, technique, and safety.
For most general training purposes, a 40-65 lb bar weight range should suffice. You only need a 100+ lb beast if pursuing elite-level powerlifting numbers.
Remember that you can always start lighter and progress sensibly. Let the plates do the majority of loading work rather than pre-exhausting yourself with an overly heavy bar.
Now that you know what trap bar weight ranges to expect, you can shop smarter and select the right option to start implementing this invaluable tool into your training!