Table of Contents
Are you tired of hitting a plateau in your gains? Wondering if those ordinary bumper plates are holding you back from unlocking your true lifting potential? Well, fear not, because we've got the scoop on the almighty BalanceFrom Bumper Plates!
In this honest BalanceFrom Bumper Plates review, we're diving deep into the world of gains to see if these plates are the real deal or just another fitness fad. Get ready to witness game-changing gains or face the dreaded bust!
We'll leave no stone unturned as we uncover the secrets behind BalanceFrom's bumper plates. Are they the missing link to your strength training journey, or just an overhyped piece of gym equipment? We're here to spill the beans and reveal the truth!
So grab your favorite pre-workout, buckle up, and join us on this wild fitness adventure as we separate the gains from the gimmicks. Let's go!
PROS
Raises the barbell off the floor and allows for easier maneuverability
Fit on 1-inch bar with assistance for smaller 1-inch weights
Priced very competitively, making them suitable for a home gym
Good quality rubber, logo, and finish
Metal rings are tight and all the plates are uniform
Odorless after washing and airing out
Excellent value for the price
Convenient for adding and removing smaller plates
Fair price compared to other bumper plates
CONS
Thinner variation of the 10 lb plates compared to others
Rubber smell initially, although it goes away
Not as nice as premium brands like Rogue
Key Features
When it comes to leveling up your weightlifting game, you need equipment that can withstand the intensity of your workout.
That's where the BalanceFrom Bumper Plates comes into play. These plates are a game-changer, designed to elevate your strength training to new heights.
So, without further ado, let's get into the key features that make these bumper plates stand out from the crowd.
Uncompromising Durability
The BalanceFrom bumper plates are crafted with top-notch materials, including alloy steel and premium rubber. This dynamic duo guarantees exceptional durability and longevity, even when faced with the most grueling training sessions. No more worrying about worn-out plates or flimsy gear—these bad boys are built to last!
Color-Coded Convenience
Picture this: you're in the middle of an intense workout, heart pounding, muscles pumping, and you need to quickly grab the right weight. With the color-coded design of these bumper plates, it's as simple as a glance.
Each plate is vibrantly color-coded, making it a breeze to identify the weight you need. No more fumbling around or wasting time during your training sessions. Efficiency at its finest, my friends!
However, if you're looking for bumper plates that are fully color-coded for effortless identification and matching with your fitness gear, consider checking out our Everyday Essential bumper plates review, in which we highlighted all its features, strengths and limitations. Checkout Now!
Solid Steel Hub
A secure fit is crucial when it comes to Olympic barbells, dumbbell bars, or sleds. The BalanceFrom bumper plates feature a solid stainless-steel hub that provides a rock-solid connection to these essential pieces of equipment.
With a 2-inch diameter, you can trust that your plates will stay in place, allowing you to focus on pushing your limits without any distractions.
Variation Extravaganza
BalanceFrom understands that every lifter has its own unique style, goals, and preferences. That's why they offer an impressive range of variations to cater to your individual needs. Check out these options that will make your weightlifting routine sing:
10 lbs (Single Piece)
Need a little warm-up or a touch of finesse in your routine? These lightweight plates got your back, my friends. They're perfect for beginners or those who want to add a touch of finesse to their workout.
15 lbs (Single Piece)
Ready to level up? These plates bring a little more oomph to your lifts without going overboard. They're ideal for intermediate lifters who want to challenge themselves.
25 lbs (Single Piece)
Alright, we're stepping it up a notch! These plates provide a significant challenge, pushing you to new heights of strength and power.
55 lbs (Single Piece)
Calling all powerlifters and muscle enthusiasts! These hefty plates are here to help you test your limits and unleash your inner beast. Prepare to feel like a superhero hoisting these massive weights!
But wait, there's more! BalanceFrom takes things to the next level by offering sets that combine different plate weights. Prepare for a wild ride of customization with these mind-blowing sets:
Set: 160 lbs (Piece of 6)
Looking to build your home gym empire? This set includes 2x10LB + 2x25LB + 2x45LB plates. It's the perfect starting point to unleash your inner fitness guru.
Set: 210 lbs (Piece of 6)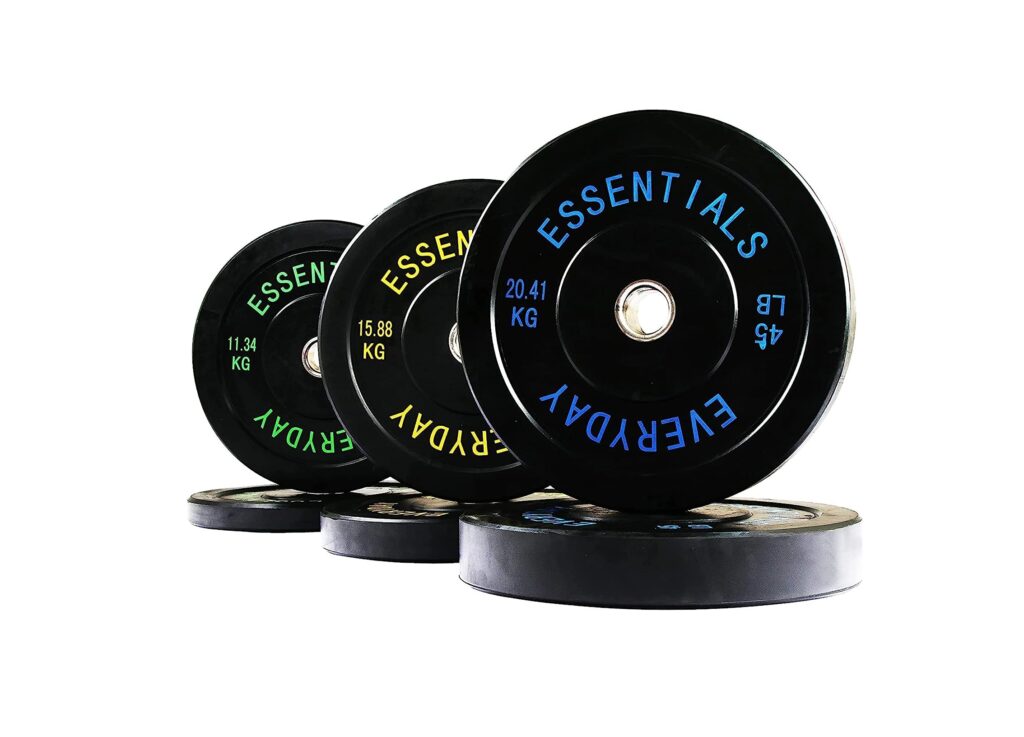 Ready to up the ante? This set includes 2x25LB + 2x35LB + 2x45LB plates, providing a versatile range of weights to take your strength training to the next level.
Set: 260 lbs (Piece of 10)
Flexibility is the name of the game! This set includes 2x10LB + 2x15LB + 2x25LB + 2x35LB + 2x45LB plates, allowing you to mix and match for a variety of workout combinations.
Set: 370 lbs (Piece of 12)
Beast mode activated! This set includes 2x10LB + 2x15LB + 2x25LB + 2x35LB + 2x45LB + 2x55LB plates. It's time to embrace the challenge and elevate your strength training like never before.
Set: 5P (Piece of 2)
Are you a fan of surprises and unpredictability? This set is a High-quality, color-coded Neoprene dumbbell set with hexagon heads to prevent rolling. Contoured handles for safe and easy handling. Ideal for toning muscles and high-intensity cardio workouts.
Durability and Performance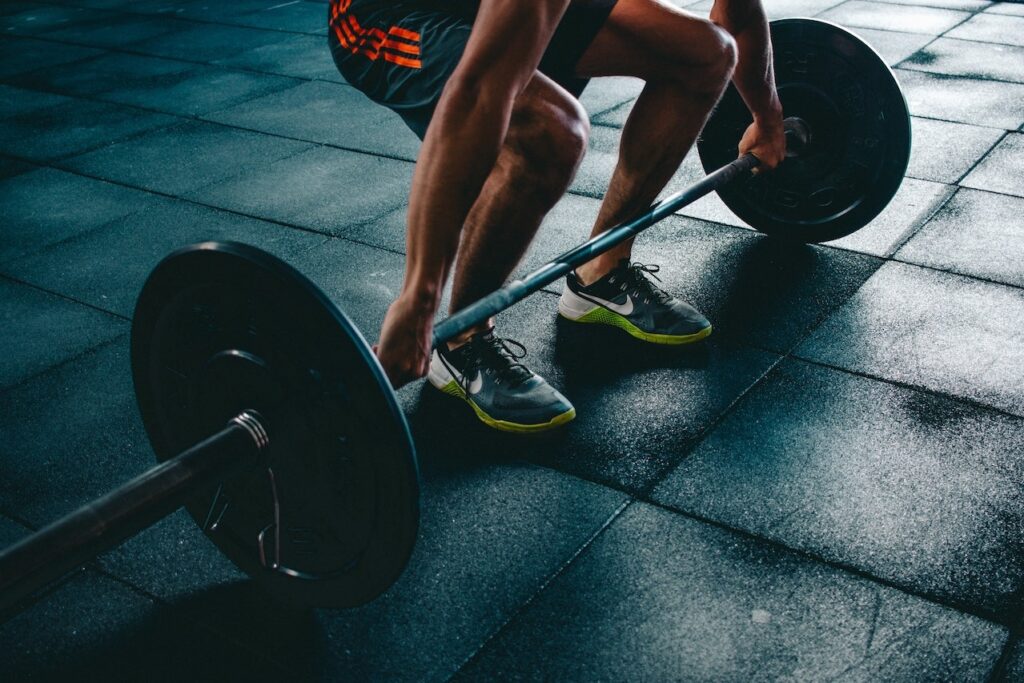 When you're in the gym, you need equipment that can withstand the heat, take a beating, and come out on top. And guess what? The BalanceFrom Color Coded Black Olympic Bumper Plate Weight Plate with Steel Hub has got your back!
Rock-Solid Rubber
These plates are made with high-density rubber that's tougher than a rhino on leg day. They can handle repeated drops, slams, and throws without breaking a sweat. Whether you're doing power cleans, deadlifts, or some seriously intense CrossFit moves, these plates won't let you down. They'll be right there with you, ready for whatever you throw at them.
Steel That's the Real Deal
The solid stainless-steel inserts in these bumper plates add a whole new level of stability and security. They provide a snug fit onto your Olympic barbell, dumbbell bar, or sled, giving you the confidence to lift heavy and push your limits. Say goodbye to wobbly weights and hello to a rock-solid lifting experience!
Premium Rubber Magic
Not only do these bumper plates offer incredible durability, but they also bring a touch of magic to your workouts. How, you ask? Well, they're made with premium rubber that not only dampens noise but also provides a stable lifting experience.
No more clanging and banging that disturbs your fellow gym-goers. And the best part? Your floors and equipment will thank you too. The premium rubber material minimizes the risk of damage, so you can focus on your gains without worrying about leaving a trail of destruction in your wake.
Safety and Convenience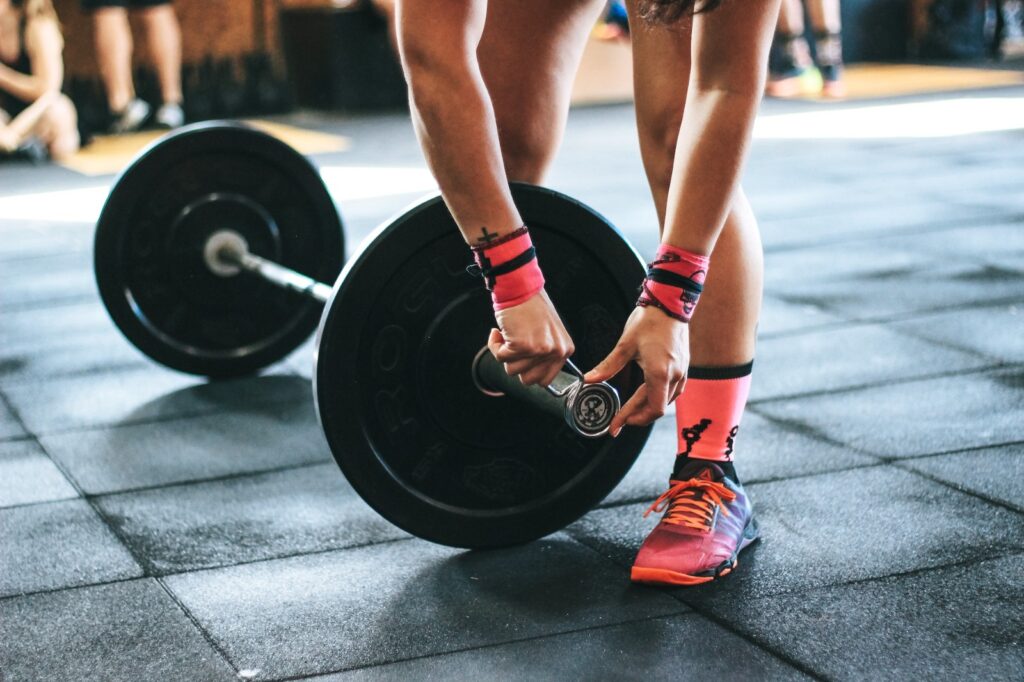 Safety is always our top priority when we're pumping iron and breaking a sweat. That's why the BalanceFrom Bumper Plate Weight Plate is here to make your weightlifting journey not only effective but also safe and convenient. Let's dive in!
Safety First, Always
When we're throwing around heavy weights, we need to be confident that our equipment has our back. With BalanceFrom bumper plates, safety is never a concern.
These plates are designed to keep you in control and protect you from any mishaps. No more worrying about weights sliding off or plates coming loose. Say goodbye to those heart-stopping moments and embrace a worry-free lifting experience.
Compatibility All the Way
The BalanceFrom bumper plates are all about convenience, my friends. They have a 2-inch diameter, which means they fit perfectly onto Olympic barbells, dumbbell bars, or sleds with the same diameter. No more struggling to find the right fit or worrying about plates slipping and sliding. These babies snugly lock in place, giving you the confidence to lift heavy and focus on those gains.
So, with BalanceFrom bumper plates, you can lift with peace of mind, knowing that safety is a top priority. The color-coded design keeps you on track, and the compatibility ensures a seamless lifting experience. It's time to take your workouts to the next level, all while keeping safety and convenience in check!
User Experience and Versatility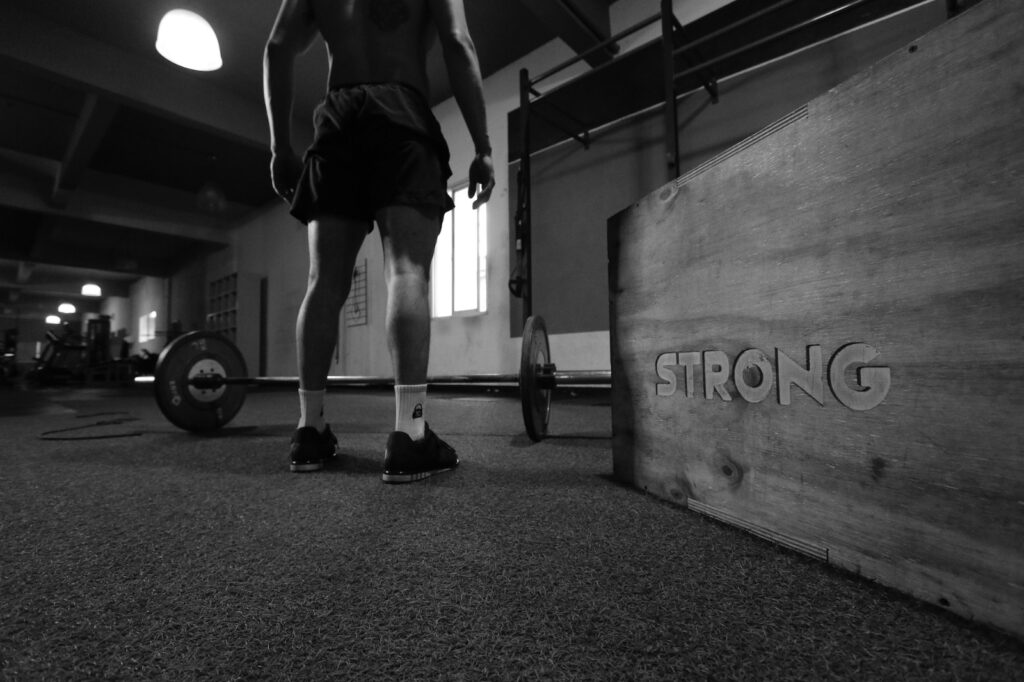 It's time to dive into the real deal—the user experience and versatility of the BalanceFrom Bumper Plates. Get ready to hear some exciting stories and discover why these plates are the ultimate game-changer in the world of weightlifting!
Real People, Real Results
Let's talk about user experience. Countless gym warriors have put these bumper plates to the test, and the verdict is in— they're a game-changer!
From professional athletes to everyday gym-goers, the feedback has been overwhelmingly positive. People are raving about the durability, performance, and reliability of these plates.
They can take a beating day in and day out without breaking a sweat, just like you during your toughest workouts. So, strap on your lifting belt and join the ranks of satisfied customers who have unlocked a whole new level of fitness with BalanceFrom.
Versatility at Its Finest
They are like chameleons, adapting to your every fitness need. Whether you're a seasoned Olympic weightlifting pro or just starting your fitness journey, these plates have got you covered.
They are suitable for a wide range of exercises, including snatches, cleans, jerks, deadlifts, and so much more. No matter what your fitness goals are, these plates are here to support you every step of the way. So, unleash your inner weightlifting beast and get ready to dominate the gym like never before!
Seamless Transitions
Picture this: You're in the zone, blasting through your workout, and it's time to switch up the weights. With BalanceFrom bumper plates, you don't have to waste precious seconds fumbling around with different-sized plates.
They've got your back with the same diameter across all variations. That means smooth and seamless transitions between different weights. It's like the weights are dancing to your rhythm, effortlessly keeping up with your ever-changing demands.
So, say goodbye to unnecessary interruptions and hello to a flow that keeps you in the zone!
The Bottom Line
So, it's time to drop the mic and deliver the final verdict on BalanceFrom Bumper Plates review. After countless reps, intense workouts, and some serious gains, we can confidently say that these plates are more than just a bust – they're a game-changer!
From their rock-solid durability to their mind-blowing performance, BalanceFrom Bumper Plates have exceeded our expectations. They're like the superhero sidekicks of the weightlifting world, supporting us in our quest for greatness and helping us crush our fitness goals with style.
But it's not just about strength and power; safety is also a top priority. These plates come with a safety seal of approval, featuring clear markings for easy identification and a design that ensures compatibility with all your favorite weightlifting gear.
It's time to unleash your inner beast, conquer new heights, and elevate your gains to epic proportions. Say goodbye to mediocrity and hello to game-changing gains with BalanceFrom Bumper Plates. The iron never lies!