Table of Contents
Swinging a heavy metal ball around your head may seem like an unusual pastime, but steel mace training is quickly gaining popularity as a unique and effective workout. This ancient training tool is making a modern comeback, providing an intense full-body workout that builds serious strength and power.
In this beginner's guide, we'll introduce you to the world of steel mace training. You'll learn what a steel mace is, the many benefits this training style offers, basic exercises to get started, and helpful tips to progress safely as a steel mace newbie.
Whether you're looking to smash through plateaus, train explosive power, or just get totally shredded, the steel mace delivers. Once reserved for elite warriors and gladiators, now this heavy hitter is available to anyone seeking a fun yet brutal workout.
So limber up those joints and get ready to start swinging! Inside this guide, you'll find everything you need to begin sculpting a physique of iron with the mighty steel mace. Let's do this!
What is a Steel Mace?
A steel mace is an ancient exercise tool that originated in Persia and India over 2000 years ago. It consists of a heavy, spherical steel head attached to a long wooden handle.
Steel maces weigh anywhere from 5 to 60+ pounds. As a beginner, you'll want to start with a lighter mace in the 5 to 15 pound range. The handle is usually between 26 and 42 inches long.
The steel mace's spherical weighted head allows for fluid, dynamic motions using centrifugal force. Unlike dumbbells or kettlebells which move in a fixed plane, the mace head can be manipulated in a dynamic, multi-dimensional range of motion.
This versatility allows the steel mace to work the entire body in every direction. The flowing, momentum-driven movements are also lower impact on your joints compared to lifting weights.
Some key differences between a steel mace and other training tools
– Kettlebells
Fixed shape limits motion compared to a spherical mace head. But the mace handle limits two-handed exercises.
– Dumbbells
Restricted to vertical and horizontal planes. Less impact on joints than mace's swinging/momentum movements.
– Battle Ropes
Provide cardio but limited flexibility and mobility training compared to the mace.
– Clubbells
Somewhat similar to maces but lighter. Maces build more explosive power.
Now that you know what a steel mace is, let's discuss why you should use one!
Benefits of Steel Mace Training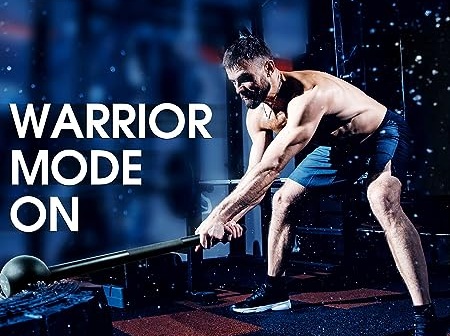 Steel mace training provides a host of benefits other training tools simply can't match:
Full Body Strength and Mobility Development
The dynamic steel mace movements involve every muscle and joint from your hands to your hips. The momentum works your core and shoulders especially hard stabilizing your torso.
Unlike lifting weights which isolate muscles, mace training develops total body coordination, strength, and mobility all at once.
Increased Cardiovascular Endurance
The constant movement and swinging nature of steel mace routines will elevate your heart rate and breathing. Using the mace for high intensity interval training absolutely torches calories.
Grip Strength and Wrist Stability
Controlling the leveraged handle under load builds tremendous crushing grip strength. The spherical head moves in every direction, developing wrist strength and stability.
Shoulder and Elbow Health
The omni-directional mace movements promote shoulder mobility and stability throughout a wide range of motion. This keeps your rotator cuffs and elbows healthy.
Core and Postural Strength
Steel mace training is a core workout unlike any other. Having to control the momentum of the swinging head will carve your core while improving posture and stability.
Injury Prevention
The strength, mobility, stability, and joint-friendly nature of mace training prevents common exercise injuries related to muscle imbalances or poor movement patterns.
Athletic Performance Enhancement
The steel mace develops power, coordination, balance, and body control – attributes that translate directly to improved athleticism for sports.
Mental Focus and Coordination
Controlling the dynamic mace requires tremendous focus and concentration. This boosts mind-body awareness, coordination, and mental discipline.
Clearly steel mace training provides an incredibly well-rounded and versatile approach to full body fitness. Now let's get into the ideal mace exercises for beginners.
Ideal Beginner Steel Mace Exercises
The video showcases an impressive compilation of 66 premium steel mace exercises, which undoubtedly offers a comprehensive range of workouts for enthusiasts to explore.
However, for individuals new to steel mace training, I strongly advise commencing with a carefully selected set of ten foundational exercises. These recommended exercises will lay a solid groundwork and facilitate a gradual and effective progression into more advanced routines.
By starting with these essential movements, beginners can develop proper technique, build strength, and reduce the risk of injury, thus ensuring a successful and fulfilling steel mace training journey.
1. 360 Degree Swings
This foundational move involves swinging the mace all the way around your body using momentum and hip drive. Builds explosive power.
2. Front-to-Back Swing
Swing the mace forward and back between your legs. Develops hip mobility and core stability.
3. Mills
Vertical rotation of the mace around its handle. Great for grip strength and shoulder mobility.
4. Mace Halo
Rotate the mace horizontally around your head. Improves shoulder stability and thoracic spine rotation.
5. Figure 8s
Trace a figure 8 pattern with the mace, crossing front and back of your body. Challenges coordination.
6. Mace Chop
Chop the mace diagonally across your body finishing low at opposite hip. Full body oblique movement.
7. Forward Crawl
Move into a push up position while rolling the mace away and retrieving it. Integrates core stability.
8. Reverse Woodchops
Swing mace diagonally starting high and finishing low behind opposite shoulder. Anti-rotation challenge.
9. Mace Climber
Start with mace overhead, squat down and swing it between legs. Powerful leg and glute exercise.
10. Rotational Figure 8s
Add a pivot to regular figure 8s making the move multi-dimensional. Tests total body coordination.
I recommend starting with just 3-5 of these beginner moves and progressively mastering them before advancing. Quality of form is crucial, which we'll cover next.
Proper Steel Mace Training Form
Like any exercise, proper steel mace technique is critical for safety and results. Here are the key form cues to follow:
Setup
Stand with feet hip to shoulder-width apart in an athletic stance
Hold mace handle at end to maximize leverage
Keep arms extended but not locked out
Grip
Use a neutral grip with palms facing each other
Thumbs pointed forward down the handle
Hold tightly enough to control the mace
Movement
Initiate the mace swing using your hips and legs
Maintain a stable torso and steady head position
Allow shoulders to move dynamically through full range of motion
Breathing
Inhale before initiating swing
Exhale vigorously on most challenging part of move
Avoid holding breath to maintain core stability
Common Form Mistakes
Over-arching lower back due to improper hinging at hips
Gripping mace too wide or too narrow
Bending and lifting solely with arms rather than using whole body
Letting head and torso move uncontrolled
Start with low weight, high rep sets focusing on nailing down proper mechanics. It's better to master form with a light mace before increasing weight.
Ready to finally start swinging steel? Let's get into how to begin your mace training.
Getting Started with Steel Mace Training
If you're motivated to start experiencing the benefits of steel mace training for yourself, here's how to get going:
Choose the Right Beginner Mace
I recommend a 10-15 lb mace to start. Look for an 18-24 inch handle length. The handle should be wood or steel. A neoprene grip can prevent blisters.
Create Your Training Space
You'll need 6-8 feet of clear space for a beginner mace routine. Outdoor or garage spaces work well to allow full swings. Always train on a flat even surface.
Find a Training Program
Search YouTube or sites like Onnit, Set for Set, and Macestrong for free beginner steel mace programs to follow. Or hire a coach to teach proper form.
Start Slowly and Progressively
Begin with just 5 basic moves focusing on technique mastery for 10-15 minutes. Build up volume and intensity gradually as your skills improve.
Listen to Your Body
Steel mace training is high intensity. Allow for proper rest and recovery between sessions. Stop immediately if you feel pain or injury.
Be Patient and Stick with It
It takes time and practice to engrain new movement patterns. But mastery of the mace is incredibly rewarding if you stick with it!
The journey into the ancient world of steel mace training starts with your first swing. Now that you're armed with a complete beginner's guide, you have all the knowledge and inspiration you need get started!
Bottom Line
I hope this beginner's guide has shown you the unique benefits of steel mace training and how accessible getting started can be.
Steel mace workouts are the perfect full body functional fitness modality. The flowing, dynamic steel mace movements will build strength, stability, mobility, athleticism, and mental focus unlike any other training method.
Remember to start slowly with the right mace weight and focus on proper form and technique above all else. Progress gradually and patiently in your training.
Soon you'll be swinging and swirling the mace like a fitness warrior! Here's to unleashing your greatest athletic potential with this simple but amazing ancient exercise tool.