Table of Contents
Hey! boys and girls, listen up and tighten those wrist wraps because we're about to smash through your bench press plateau like a Hulk on a rampage!
I'm your friendly neighborhood gym guru, here to spill the beans on the 6 best wrist wraps for bench press that will have you crushing those weights like a boss.
We all know the struggle, don't we? Stuck at the same old weight, feeling like a squirrel trying to bench press a nut.
But don't worry, because these wrist wraps are about to become your secret weapon, your trusty sidekick in the quest for colossal gains.
From sturdy support to wrist-saving comfort, these wraps will have your wrists wrapped up tighter than a burrito on Taco Tuesday.
Say goodbye to nagging pain and hello to explosive power. So get ready to unleash your inner bench press beast and kiss that plateau goodbye.
Let's dive into the 6 wrist wraps that'll have you dominating the bench like a heavyweight champ!
– The 6 Best Wrist Wraps for Bench Press
1. Rip Toned Wrist Wraps – 18″ Professional Grade with Thumb Loops
Pros
Provides additional support for aggravated wrists during upper body workouts
Good job protecting wrists during bench pressing and squatting
The right amount of rigidity for long-term use
Flexible support for those with carpal tunnel or wrist issues
Solid and durable, even with constant abuse
Firm wrist support for heavy dumbbell presses
Serves its purpose and provides excellent wrist support for pushups
Cons
Velcro may wear off over time, but a lifetime warranty ensures replacements
Recent versions may have compromised rigidity and pliability compared to older models
Overview
Let's dive into the nitty-gritty of these wrist wraps. First off, they come in a sleek Flex Fit size, courtesy of the renowned brand Rip Toned.
And, might I add, the fiery Red Canada color will make you feel like a warrior ready to conquer the weights? With their convenient Pull On, Hook, and Loop closure type, these wraps are a breeze to secure firmly around your wrists.
Rip-Toned Benefits for Bench Pressing
First and foremost, Rip Toned Wrist Wraps provide the much-needed wrist stability you require to handle heavier weights. No more shaky wrists jeopardizing your form and limiting your potential gains.
Moreover, they actively reduce the risk of injuries, ensuring you stay in the game without setbacks. Lastly, these wraps offer enhanced grip and lifting performance, allowing you to push past your limits and achieve new personal records.
User Experience
I have recommended Rip Toned to numerous lifters who put them to the ultimate test during the bench press sessions, and boy, was I impressed! From the moment they unwrapped the package, I could tell these wraps meant business.
Putting them on was a breeze, thanks to the thoughtfully designed Thumb Loops that kept them securely in place. Throughout the workouts I have seen, they provided unparalleled wrist support, allowing lifters to focus solely on the bench presses without worrying about potential strains or discomfort. The premium stitching and durable extra-wide velcro reassured me of their quality and longevity.
Comparison to Other Wrist Wraps
Having tried various wrist wraps in the past, I must say the Rip Toned wrist wraps outshine the competition. The level of stability and support they provide during bench pressing is on a whole other level. They are truly in a league of their own.
Versatility and Performance
While these wrist wraps excel during bench pressing, they prove their worth in other activities too. Whether it's weightlifting, Crossfit, MMA, powerlifting, or even intense bodyweight exercises like push-ups, planks, and burpees, they've got you covered.
Trust me, these wraps are not limited to just one type of workout—they are your all-in-one fitness companion.
Take My Opinion
Finally, the Rip Toned Wrist Wraps are an absolute winner when it comes to bench pressing and beyond. Their unmatched stability, support, and comfort make them an essential gym accessory for anyone serious about pushing their limits and achieving outstanding results.
I highly recommend these wraps to athletes, weightlifters, cross-fitters, and anyone looking to elevate their strength training game.
2. Bear Grips Extra Strength Wrist Wraps
Pros
Provides stability during bench pressing
Sturdy and strong Velcro
Heavy duty and maintain position well
Provide great support for arthritic wrists
Extremely supportive and secure Velcro
Stabilize wrists and relieve pain
Impressive branding and value
Tremendous wrist support for older lifters
Relieves pain during workouts
Positive experience with pain-free lifting
Cons
May soak up a sweat for those who sweat a lot
Washing too many times could weaken the Velcro
Stiffness may cause discomfort for some users during extra heavy bench pressing
Overview
The Bear Grips Extra Strength Wrist Wraps are the real deal. Made with a winning combination of polyester and cotton, these bad boys provide durability and comfort simultaneously.
Clocking in at a compact 12″ length, they come in a sleek black camo color that screams confidence. Weighing just 0.15 pounds, they won't weigh you down during those intense sets.
Design and Construction
These wrist wraps are as tough as they come. With quad stitching that can withstand the test of time and countless reps, you won't have to worry about these wraps giving out on you.
The adjustable strap ensures a perfect fit for wrists of all sizes, allowing you to focus on pushing limits. And let's not forget the built-in compression protectors that provide additional support where you need it most.
Oh, and the sturdy thumb loop? It's an absolute game-changer when it comes to convenience.
Performance and Functionality
When it comes to bench pressing, these wrist wraps have your back (or rather, your wrists). The Bear Grips Extra Strength Wraps provide exceptional wrist support, stabilizing your joints and minimizing the risk of injury.
You'll feel the difference as you confidently load up the barbell and conquer new personal records.
Lifting heavier weights? Consider it done. These wraps give you the boost you need to go above and beyond. Plus, their flexibility and mobility make them ideal for various workout routines, so you can dominate not just on the bench, but in other exercises too.
User Experience
Users rave about the Bear Grips Extra Strength Wrist Wraps for good reason. Putting them on is as easy as pie, and their adjustability ensures a snug and comfortable fit.
During bench presses, they provide the perfect balance of support and flexibility, allowing you to focus solely on your form and power through your sets.
Personally, I've recommended Bear Grips to many bench press sessions that experienced a noticeable increase in performance and stability, and I'm not alone in this sentiment. The Amazon weightlifters awarded it with 4.5/5-star ratings, which speaks volumes about its quality and effectiveness.
My Advice
After putting the Bear Grips Extra Strength Wrist Wraps through their paces, I can confidently say that they are a game-changer for bench pressing. Their design, construction, and performance tick all the right boxes. I wholeheartedly recommend these wraps to anyone serious about their bench press gains.
So, don't hold back—unleash your inner bench beast with Bear Grips Extra Strength Wrist Wraps and prepare to crush your goals like never before. Trust me, your wrists will thank you for it.
3. Rogue Fitness Wrist Wraps Power/Weightlifting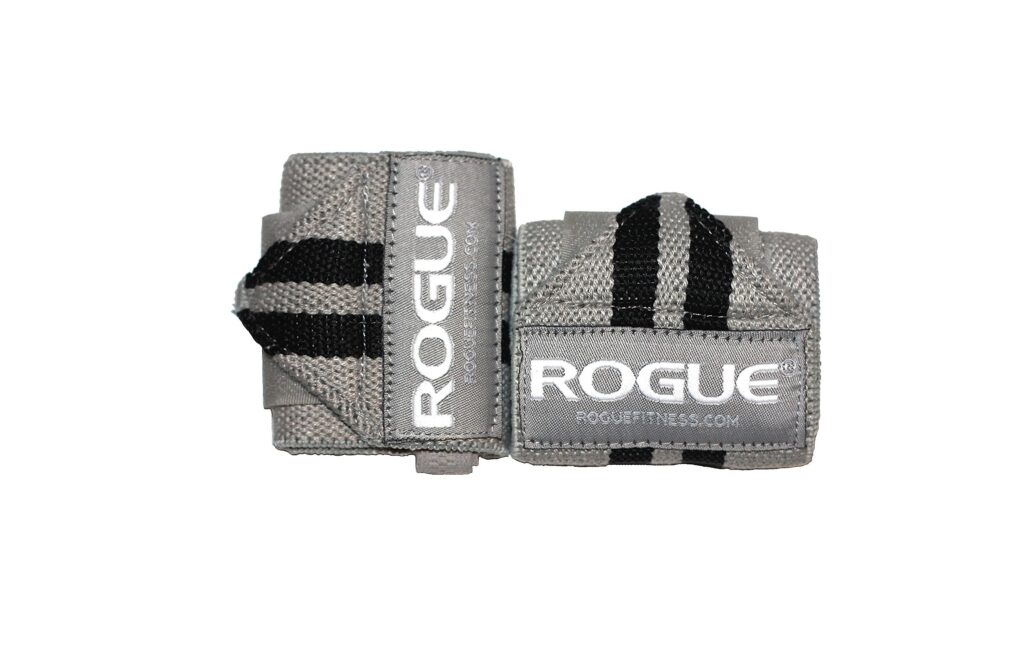 Pros
12″ length is perfect for those who prefer less bulk and easy adjustment
Provides adequate support for lifts involving extreme wrist movement
Helpful for exercises like front squats, clean & jerks, and push-ups
Allows lifting heavier weights
Durable with long-lasting Velcro
Makes the user feel confident and knowledgeable
Can be used for rope climbs and activities that strain the wrists
Comfortable and less rigid compared to other wraps
Cons
Material may rip from the Velcro, suggesting lower quality in a few cases
Rubber strands may come out of the wraps, indicating possible quality issues
A few users suggested they are overpriced for the brand name
Gain valuable insights into the Rogue Wrist Wrap with our extensive user review featured in the article "Hype or Hope? Unbiased Rogue Wrist Wrap Review" Checkout Now!
Overview
These Rogue Fitness Wrist Wraps are the real deal, folks. With a length of 12 inches (30cm), they strike the perfect balance between compactness and effectiveness.
Made from a blend of 40% elastic, 10% polyester, and 50% cotton, they provide the ideal combination of flexibility, durability, and comfort. Plus, they come in a stylish Black/White color that will have you looking like the gym fashion guru in no time.
Oh, and did I mention they're sold in pairs? You'll have to double the wrist support for the price of one!
Comfort and Fit
Slip these babies on, and you'll instantly notice the supreme comfort they offer. The Rogue Fitness Wrist Wraps have been crafted with your utmost comfort in mind.
Their thoughtful design ensures a snug fit on wrists of all sizes, meaning you can bid farewell to those annoying slip-ups during heavy lifts. Plus, their padding adds an extra touch of luxury, allowing you to power through your bench presses without any distractions.
Support and Stability
Prepare to experience a whole new level of support and stability with these wrist wraps. They have been engineered to deliver unwavering assistance during your bench press sessions.
The tight yet flexible grip they provide keeps your wrists in proper alignment, preventing unnecessary strain and potential injuries. Feel the confidence surge through your veins as you conquer those heavy plates with impeccable form.
Durability
Worried about wear and tear? Fear not! The Rogue Fitness Wrist Wraps are built to last. The robust combination of elastic, polyester, and cotton ensures they can withstand even the most grueling training sessions.
These wrist wraps are ready to endure countless reps and sets, so you can focus on smashing your personal records instead of worrying about equipment longevity.
Ease of Use
Putting on and adjusting these wrist wraps is an absolute breeze. Their user-friendly design allows for quick and hassle-free application, so you can get to lifting in no time.
The secure closure mechanism ensures they stay in place throughout your entire workout, providing the consistent support you need.
Plus, the inclusion of convenient thumb loops adds an extra layer of convenience, making adjustments effortless.
Comparison with Alternatives
When it comes to wrist wraps, the Rogue Fitness Wrist Wraps truly stand out from the crowd. Their blend of materials strikes the perfect balance between flexibility and durability, providing an unrivaled user experience.
While other wraps may offer longer lengths, the Rogue Fitness Wrist Wraps' compact design ensures they are specifically tailored for bench pressing, allowing for greater freedom of movement.
Take My Advice
If you're serious about taking your bench press to the next level, look no further than the Rogue Fitness Wrist Wraps, Short 12″. These bad boys offer the ultimate combination of comfort, support, durability, and ease of use.
With their reliable assistance, you can focus on pushing your limits and achieving new heights in the weight room. Trust me, your wrists will thank you! Don't hesitate – get your hands on these wrist wraps and embrace the strength within.
4. Harbinger Red Line 18-Inch Bench Press Wrist Wraps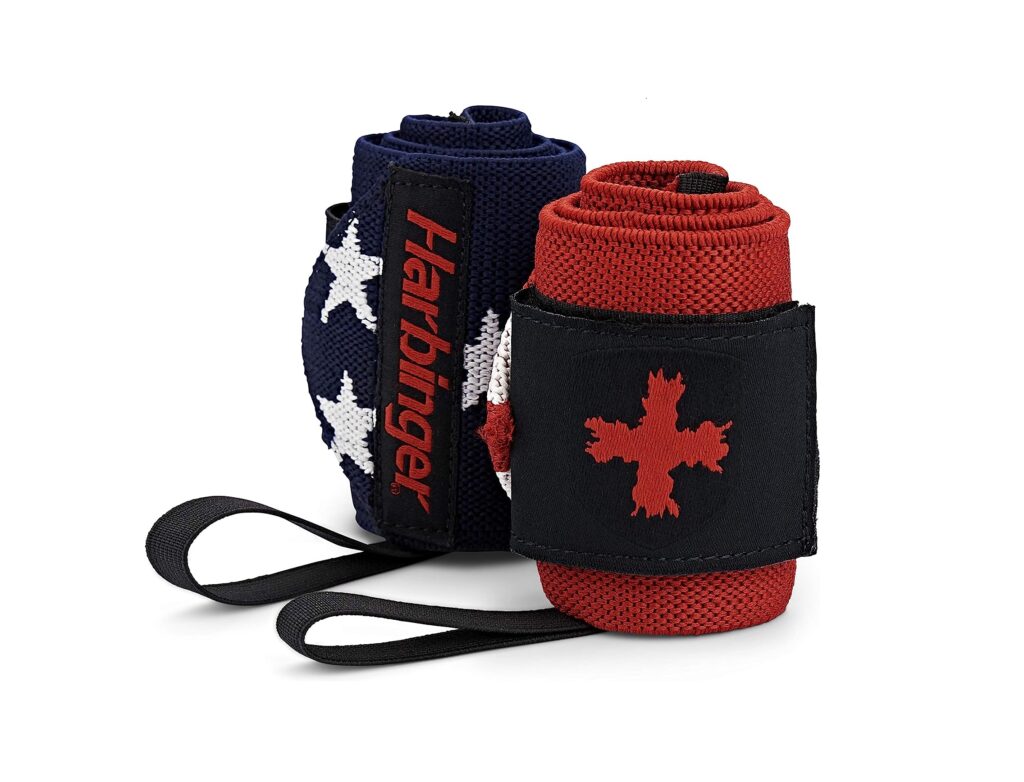 Pros
Provides excellent wrist stability, ideal for workouts
Great elasticity and medium firmness for comfortable wrapping
Offers good support and stability during exercises
Attractive design, especially for Army personnel
Reasonable price and good value for the money
Suitable for beginners and average lifters
Cons
Some users find the wraps too stiff for personal preference
Rough stitching on the angled part can cause discomfort (fixable with tape)
Some units have a foul smell even after washing, requiring extra effort
Not recommended for elite athletes or extremely heavy lifting
Overview
Picture this: sleek, modern wrist wraps designed for both men and women. The Harbinger Red Line wraps are made with top-quality materials, and feature an 18-inch length that screams serious business.
They boast a hook and loop closure type, ensuring a secure and customizable fit. Plus, the bold flag color adds an extra touch of style to your lifting game. And don't forget, they come with a 90-day manufacturer's warranty. Boom!
Effectiveness
Alright, let's talk about the real deal—the effectiveness of these wrist wraps. When it comes to bench press, stability, and grip are game-changers. These wraps deliver like no other, offering unparalleled support that helps you maintain proper form.
With the Harbinger Red Line wraps you'll experience improved wrist alignment, which means less strain and more gains! Don't just take my word for it; the fitness community is raving about the difference these wraps make in their lifting journey.
Comfort and Fit
No one likes feeling restricted or uncomfortable during a killer workout. Fear not, my friends! The Harbinger Red Line wraps are all about comfort. The materials used provide breathability and flexibility, keeping your wrists cool and allowing for a full range of motion.
The adjustable closures ensure a snug fit for wrists of all sizes and shapes. Oh, and did I mention the added padding? Say goodbye to unnecessary discomfort and hello to lifting bliss!
Durability and Quality
Nobody wants to invest in wrist wraps that fall apart after a few sessions. Luckily, the Harbinger Red Line wraps are built to last.
These Wrist Wraps are made with high-quality materials and rock-solid construction. They can handle the toughest workouts without losing their effectiveness or structural integrity.
Plus, the manufacturer has your back with that 90-day warranty. Now, that's what I call confidence in their product!
Comparison and Value for Money
Let's face it, we're all about getting the most bang for our buck. The Harbinger Red Line 18-Inch Wrist Wraps stand out from the competition. They offer exceptional performance, durability, and comfort at a competitive price point.
When you consider the added benefits and the brand's reputation, it's clear that these wraps deliver outstanding value for your hard-earned cash.
Take My Word
The Harbinger Red Line has my heart. They combine style, functionality, and durability into one awesome package. If you're serious about taking your bench press game to the next level, these wraps are an absolute must-have.
So, what are you waiting for? Unleash your inner bench press beast and grab your pair of Harbinger Red Line wraps today!
Rough stitching on the angled part can cause discomfort (fixable with tape)
Some units have a foul smell even after washing, requiring extra effort
Not recommended for elite athletes or extremely heavy lifting
5. Leather Wrist Wraps Grip Assistance Deadlift Straps
Pros
Sturdy leather/suede material
Helpful in preventing callouses
Comfortable, Durable, and soft
Provides grip for lifting heavy weights
Versatile for use on either hand
High-quality construction with strong stitching
Generous Velcro strap for a secure hold
Cons
Lack of size options
Doesn't fit perfectly on small hands
Overview
These wrist wraps aren't just any ordinary gym accessory. They're designed with convenience in mind, making them a breeze to wear with just one hand. Plus, their professional appearance will make you feel like the boss of the bench press.
But that's not all! The raised palm surface is here to save the day, ensuring you never slip up during your lifts. And did I mention the soft materials? They're as comfortable as a cloud while keeping those calluses and accidental slips at bay. No more sweaty grip problems either, thanks to their sweatproof superpowers!
Comfort and Fit
Comfort is key when it comes to crushing your bench press goals. These wrist wraps are like a warm hug for your wrists.
You'll forget you're even wearing them! Plus, they offer a perfect fit and are fully adjustable, so you can customize them to your liking. No more worries about discomfort, abrasion, or pesky calluses ruining your lifting sessions.
Support and Stability
Let's talk support and stability, my friends. These wrist wraps have your back—err, wrists—covered! With their double-layered cowhide construction, they provide the ultimate security, reducing the risk of injuries and keeping blisters and calluses at bay.
That extra padding also wraps around a larger area of your wrists, giving you that much-needed protection and preventing any skin pinching. Say goodbye to wrist stress and hello to stronger, more stable lifts!
Grip Assistance and Durability
A solid grip is the foundation of a successful bench press. These wrist wraps are here to make sure your grip game is on point! Crafted from durable cowhide material, they're built to last longer than your average wraps.
They break in and soften over time, providing a grip that won't let you down. No more worrying about slippery situations or flimsy straps. These babies are here to stay!
Versatility and Exercise Applications
Let's not limit ourselves to just bench press, folks. These wrist wraps are the jack-of-all-trades in the gym world. They're perfect for deadlifts, shrugs, barbell rows—you name it! With their enhanced grip and stability, they take your performance to a whole new level.
Say hello to smoother, more efficient workouts that make you feel like a true lifting champion!
User-Friendliness
Who needs complicated equipment when simplicity rules? These wrist wraps are as user-friendly as they come. They're easy to put on, easy to adjust, and easy to love. Plus, they cater to both men and women, so no one feels left out of the gains party!
Value for Money
These wrist wraps offer fantastic value for your hard-earned money. Compared to other options out there, they're in a league of their own. Don't settle for subpar gear when you can invest in wrist wraps that truly deliver on their promises. Your gains—and your wallet—will thank you!
Take My Word
These wrist wraps really reign supreme. They're comfortable, supportive, and durable, and enhance your grip like no other. They're the perfect gift for any fitness fanatic, whether they love bench press, weightlifting, power training, or bodybuilding. So, gear up, get ready, and let these wrist wraps take your bench press to astonishing new heights.
6. Sling Shot Gangsta Wrist Wraps for Wrist Support
Pros
Intuitively designed with attention to detail
Provides flexibility and rigidity for optimal performance
Gives extra confidence and support during heavy lifts
Comfortable and supportive
The thumb loop works on either hand
Versatile use with the option to choke off on the wrist
Cons
The smaller size may not be suitable for CrossFit
Quality may not be durable and may fall apart after regular use
Overview
Firstly, let me give you the lowdown on these wrist wraps. The Sling Shot Gangsta Wrist Wraps are built to withstand the toughest challenges, utilizing level 3 elastic that's specifically engineered for competition.
With a stiffer and more durable material, these wraps offer you maximal support and compression, so you can push your limits without holding back. Plus, guess what? They're IPF approved! You know you're getting top-notch quality here.
These wraps come in two lengths, 20″ and 36″ from end to end, catering to different preferences.
And let's not forget about the colors! You've got a range to choose from – blue, black, camo, red, and pink. Pick the one that matches your workout vibes and get ready to rock the gym in style!
Personal Experience
Now, I've had the pleasure of putting these wraps to the test, and let me tell you, they're an absolute game-changer. Not only did they enhance the performance and stability during bench presses, but they also provided the wrist support that is required to keep pushing the limits. Say goodbye to discomfort and hello to new heights!
Design and Quality
When it comes to design, these wrist wraps don't disappoint. They not only look sleek and badass, but they're also functional as heck. The quality of the materials used is top-notch, ensuring durability that withstands even the toughest gym sessions.
And let's talk about the innovative thumb loop. It's sewn flat to the end of the wrap, allowing you to get the most out of it. It's all about that maximal support exactly where you need it.
Comfort and Fit
Strapping on these wraps is quite easy. They're fast and easy to put on, saving you time and energy. The best part? They provide a secure and comfortable fit without restricting your mobility. You can focus on your lifts without worrying about readjusting them every few seconds.
Performance and Support
When it comes to performance, these wraps truly shine. They provide excellent support, ensuring wrist stability and reducing the risk of pesky injuries.
You'll feel confident pushing heavier weights and maximizing your potential. These wraps have got your back, or rather, your wrists!
Versatility and Adaptability
Now, these wrist wraps aren't limited to just bench presses. They're perfect for any exercise that requires wrist support.
Whether you're crushing deadlifts, smashing overhead presses, or dominating pull-ups, these wraps will have your back, well, wrists, through it all. They're adaptable to different hand sizes and grip preferences, making them suitable for both beginners and seasoned weightlifters.
Comparison to Other Brands
I've tried my fair share of wrist wraps, but the Sling Shot Gangsta Wrist Wraps have truly won me over. Their level of support and durability is unmatched.
Plus, the innovative thumb loop sets them apart from the competition. When you wrap up with these gangsta wraps, you'll feel like you can conquer anything.
Take My Opinion  
The Sling Shot Gangsta Wrist Wraps are the real deal. With their unrivaled support, quality design, and impressive performance, they're hands down the best wrist wraps for bench press.
Don't let those wrists hold you back from reaching your goals. Strap on these gangsta wraps, unleash your inner beast and conquer the weights like never before. It's time to take your bench game to new heights!
The Bottom Line
So, my pumped-up pals! We've reached the end of our wild wrist wrap adventure. Remember, when it comes to smashing through your bench press plateau, these top 6 wrist wraps are your trusty allies, your ticket to bench press greatness.
Whether you're a seasoned gym warrior or just starting your journey, don't underestimate the power of proper wrist support. These wraps will have your wrists feeling stronger than a superhero's grip on a villain's collar.
So go ahead, grab a pair of these wrist wrap wonders, strap 'em on tight, and get ready to obliterate your old PRs. Break those plateaus like they're made of candy glass and show the world what you're made of.
Remember, my friends, consistency, determination, and the right gear are the keys to unlocking your full potential. So get out there, embrace the burn, and leave your bench press plateau in the dust. You've got this!