Table of Contents
As a dedicated yogi seeking ways to deepen my practice and enhance my flexibility, I stumbled upon the Dharma Yoga Wheel Basic, and let me tell you, it has been a game-changer.
This innovative yoga prop has revolutionized my yoga sessions, allowing me to delve into deeper stretches, challenging rollouts, and strengthening exercises.
With its striking black and turquoise color, durable ABS/EVA material, and dimensions of 12 x 12 x 6 inches, this yoga wheel from the trusted brand Dharma Yoga Wheel is a true gem in the realm of yoga equipment.
Without further ado, let's get into my experience with Dharma Yoga Wheel.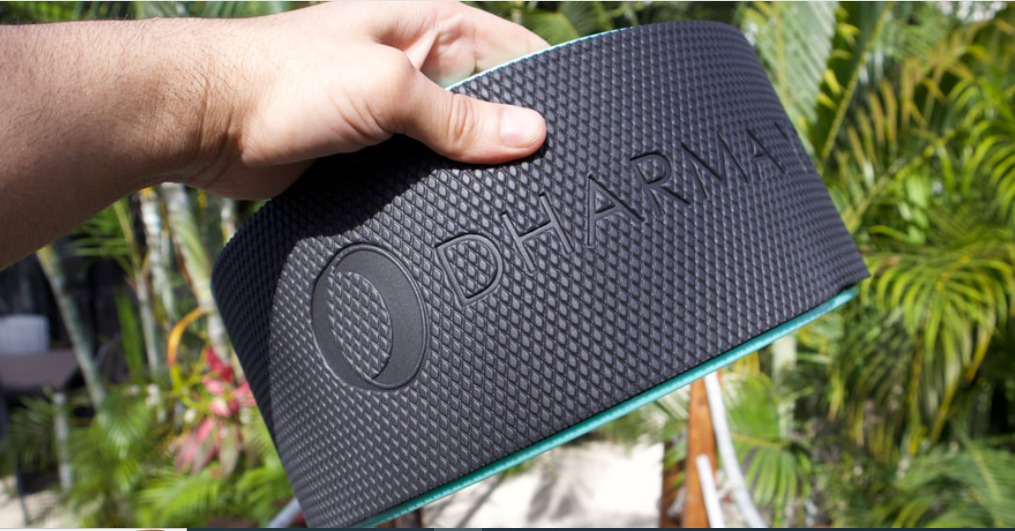 Pros
Provides a deep stretch and realignment for the back
Versatile for a variety of different positions and exercises
Covered in yoga mat material, ensuring stability and preventing sliding
Helps in achieving deeper stretches and improving flexibility
Sturdy design and durable construction
Can be used for backbends and improving upper back/chest flexibility
Offers support during headstands and balance exercises
Helps relieve pain, aids digestion, and realigns organ placement
Cons
Limited functionality for practices beyond backbends and stretching
May Cause discomfort and a learning curve for beginners
Larger size and less portability compared to smaller yoga props
I've seen some users experiencing issues with the rubber pad, including peeling and ungluing
Dharma Yoga Wheel Features
| | |
| --- | --- |
| Feature | Description |
| Color | Black/Turquoise |
| Material | ABS/EVA |
| Brand | Dharma Yoga Wheel |
| Item Weight | 3 Pounds |
| Item Dimensions | 12 x 12 x 6 inches |
| Durability | Rock-solid design that can hold 500 pounds or more |
| Portability | Easy to pack, carry, and bring on travels |
| High Quality | Intense quality testing and inspections |
| Core Strength | Helps with back alignment, core strength, and upper body stretching |
| Satisfaction | Yogi satisfaction is guaranteed with a refund policy |
| Flexibility | Enhances natural flexibility and loosens muscles |
| Strength | Builds natural strength and stabilizes while performing poses |
| Balance | Improves balance and body awareness with various yoga poses |
| Versatility | Compatible with thousands of poses, workshops, and workouts |
| Health Benefits | Stretch and release the entire body, prevent functional disorders and pain, invest in health and flexibility |
| Sustainability | Reusable product for a sustainable lifestyle |
Design and Durability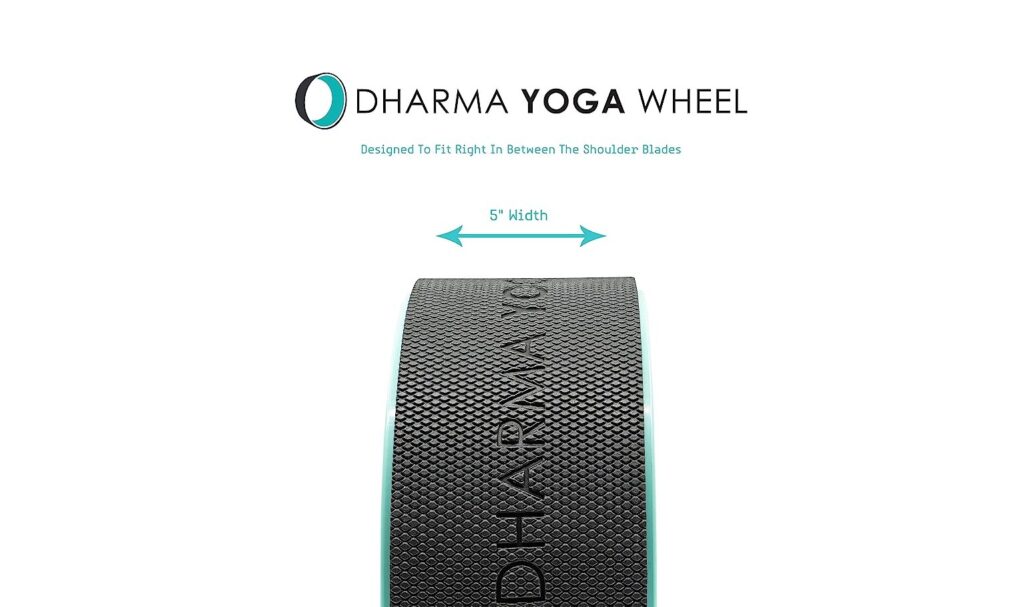 The first thing that impressed me about the Dharma Yoga Wheel Basic is its rock-solid design, capable of holding a staggering 500 pounds or more. This gives me the confidence to explore even the most demanding yoga poses, knowing that the wheel can handle the challenge.
Crafted from high-quality ABS/EVA material, it exudes durability and longevity, assuring me that it will be a faithful companion on my yoga journey for years to come. Its ability to withstand challenging poses and exercises is truly remarkable, providing the stability and support needed to push my boundaries.
Portability and Convenience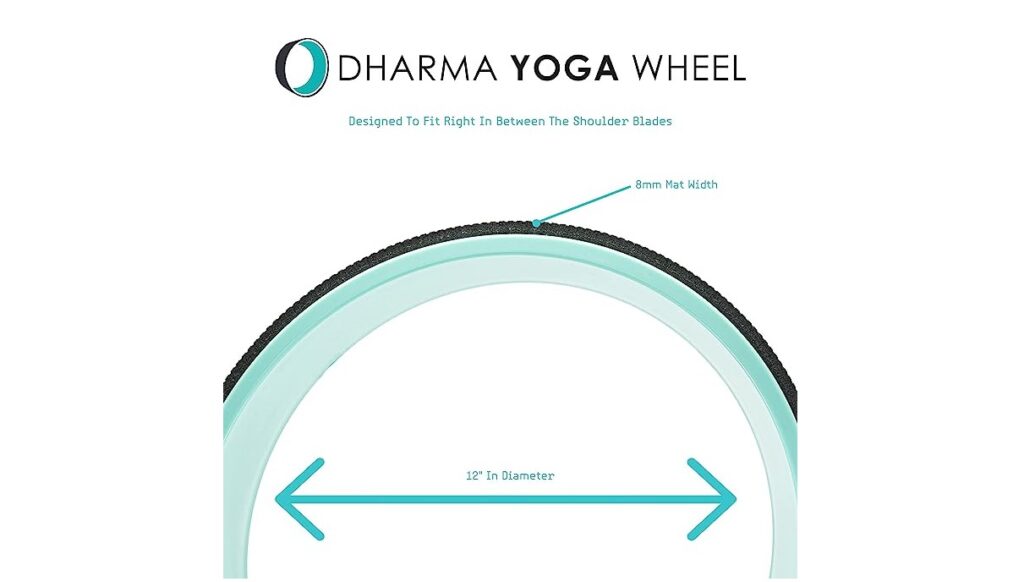 One of the standout features of the Dharma Yoga Wheel Basic is its remarkable portability. It is incredibly easy to pack, carry, and bring along on my travels.
Whether I'm heading to a yoga retreat or simply practicing in different spaces, this wheel effortlessly accompanies me, ensuring that I can maintain my flexibility, strength, and agility no matter where I am.
Its lightweight nature and compact size make it a breeze to transport, allowing me to harness its benefits and address any injuries or tightness on the go.
High-Quality Yoga Equipment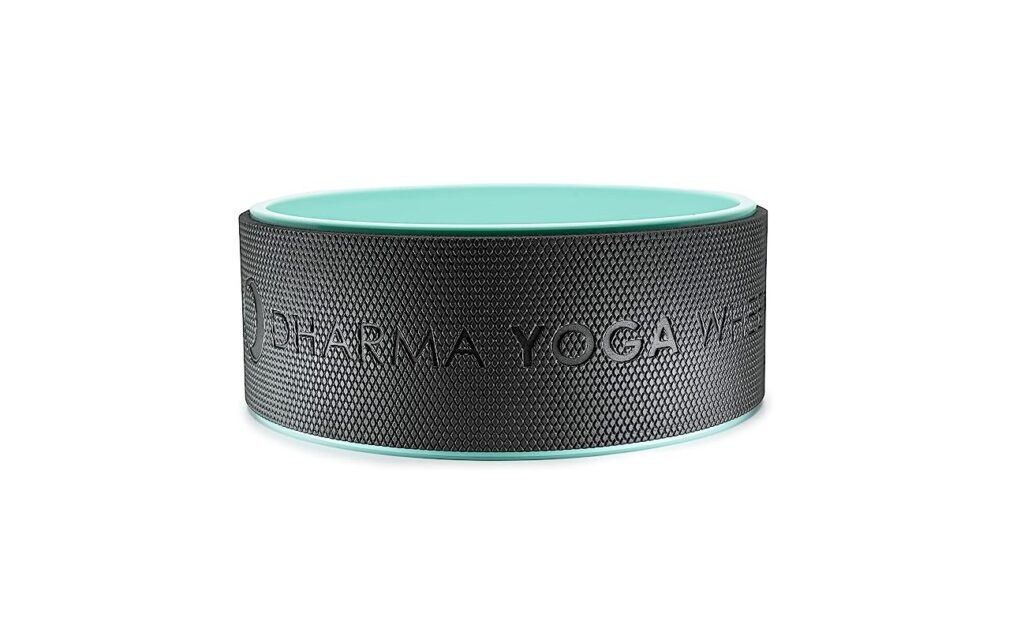 The Dharma Yoga Wheel Basic has been subjected to rigorous quality testing and inspections, leaving no room for compromise when it comes to performance. I appreciate the commitment of Dharma Yoga Wheel to provide the best possible product on the market.
This wheel exceeds expectations with its impeccable craftsmanship and attention to detail. It has become a staple in my yoga practice, serving as a reliable and trustworthy tool. Moreover, its reusable nature aligns with my values of sustainability, allowing me to reduce waste while enjoying its myriad benefits.
Core and Back Strengthening
If you're looking to improve back alignment, strengthen your core, and unlock new levels of flexibility, the Dharma Yoga Wheel Basic is a must-have.
This ingenious tool targets the spine, helping to alleviate back issues and promote overall spinal health. By incorporating it into my practice, I have witnessed significant improvements in my posture and overall core strength.
Additionally, the foam padding ensures comfort during upper-body stretching exercises and provides a solid foundation for effective abdominal workouts. It has truly become an indispensable ally in my pursuit of a strong and supple body.
Benefits and Versatility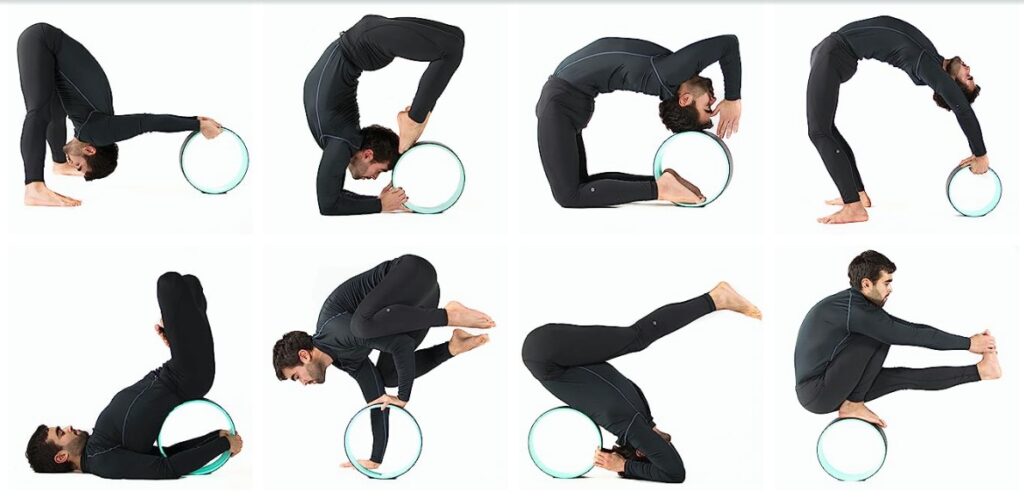 The benefits offered by the Dharma Yoga Wheel Basic are truly remarkable. Through regular use, I have experienced a noticeable increase in flexibility as my muscles gradually open and loosen.
This has allowed me to delve deeper into poses, pushing the boundaries of what I once thought possible. Alongside flexibility, this wheel has helped me build natural strength and stability, activating and reinforcing muscles I never knew existed.
Moreover, it has been instrumental in improving my balance and body awareness, helping me stay grounded and connected during my yoga practice. The versatility of the wheel is a testament to its effectiveness, seamlessly integrating into various poses, workshops, and workouts, and continuously challenging me to explore new limits.
Testimonials and Satisfaction Guarantee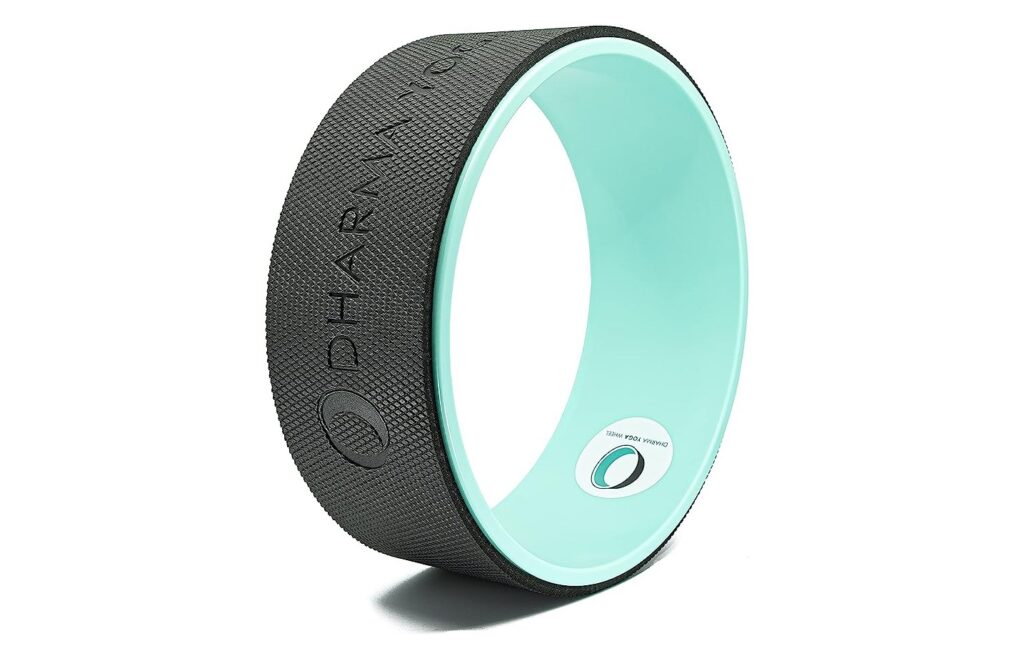 The Dharma Yoga Wheel Basic has garnered rave reviews from countless users, and I wholeheartedly join their chorus of praise. The positive feedback from others who have experienced the transformative power of this wheel only solidifies my confidence in its efficacy.
Furthermore, the satisfaction guarantee provided by Dharma Yoga Wheel assures me that my investment is protected. If, by some unlikely chance, I'm not totally in love with this wheel, I can simply return it for a complete refund. The dedication of the brand to customer satisfaction is evident, and its supportive and responsive customer service team is always ready to assist.
Back Relief and Overall Health Benefits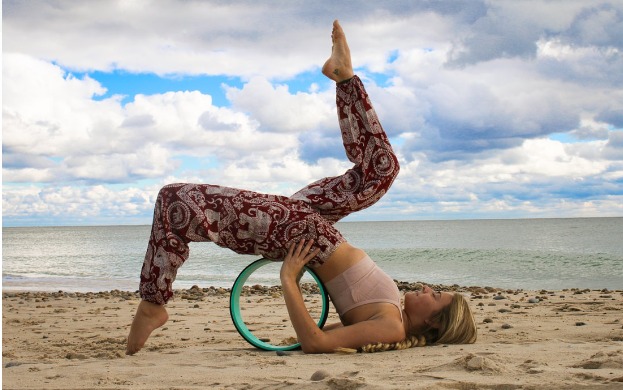 With the Dharma Yoga Wheel Basic, back relief is just minutes away. By using this wheel, I have been able to expand my chest, stretch my abdomen, open up my hip flexors, and relieve tension in my shoulders.
Its unique design enables me to target specific areas of my back, promoting flexibility and range of motion. Each time I roll and lay over the wheel, I feel a surge of energy as my back realigns and the flow of energy throughout my body becomes harmonious. Regardless of your condition, this wheel makes backbends accessible to everyone, ensuring a happy and healthy body.
Prevention and Pain Relief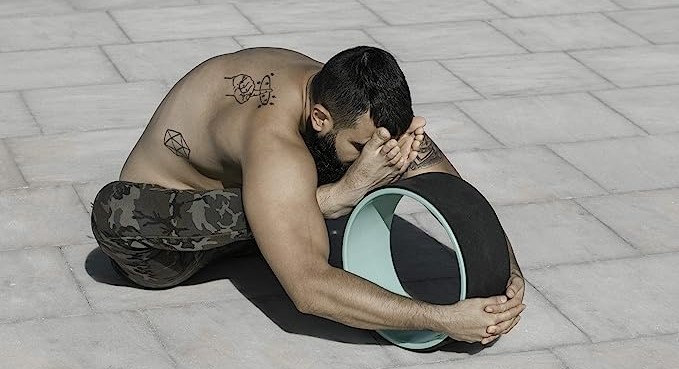 One of the most remarkable aspects of the Dharma Yoga Wheel Basic is its ability to prevent functional disorders and alleviate pain. By incorporating this wheel into my practice, I have noticed a reduction in muscle tightness, tears, and scar tissue build-up.
It has become an invaluable tool in preventing conditions like arthritis, herniated discs, and other unwarranted injuries. The gentle yet effective stretching and support it provides have brought significant relief to my body, allowing me to overcome discomfort and experience the joy of pain-free movement.
Investment in Health and Sustainability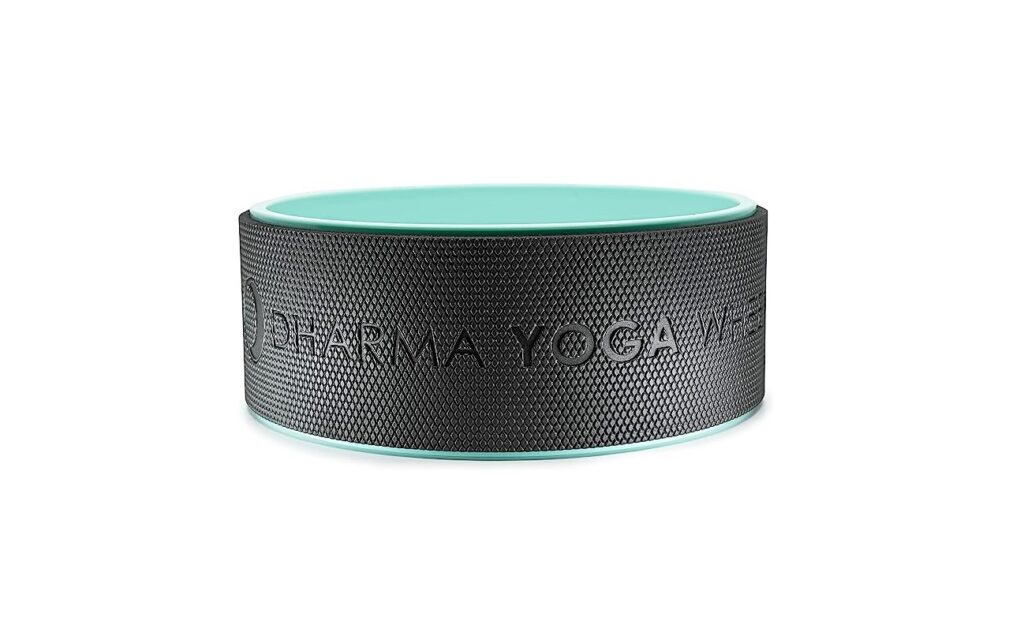 Investing in the Dharma Yoga Wheel Basic is an investment in personal health and well-being. This wheel encourages a profound appreciation for the body and its capabilities. It serves as a reminder to treat our bodies like holy, sacred temples. The use of this wheel not only benefits me individually but also contributes to a healthier planet.
By opting for a reusable product, I am actively reducing my environmental footprint while enjoying its countless benefits. It's a win-win situation that aligns with my values of holistic wellness and sustainable living.
The Bottom Line
In conclusion, the Dharma Yoga Wheel Basic has transformed my yoga practice and unlocked boundless possibilities. Its exceptional design, durability, and portability make it an invaluable companion on my journey to a more flexible and stronger body.
Through its high-quality craftsmanship, it has become a reliable tool that I can trust for years to come. The benefits it offers, from core strengthening to enhanced flexibility and improved balance, are truly extraordinary.
I invite you to invest in your health and flexibility and discover the accessibility and inclusivity that the Dharma Yoga Wheel Basic brings to your yoga practice.